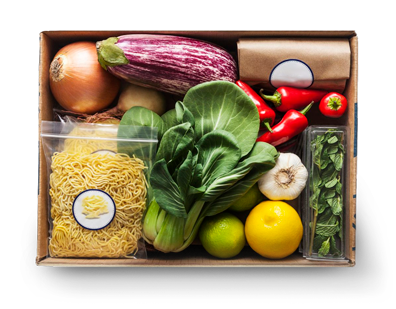 In a Nutshell
Are you a single person who also happens to be busy from dusk to dawn? With no time to go for groceries and no stamina to chop vegetables, grabbing fast food seems to be the only alternative in the end. However, with meal kit delivery services becoming a common norm in Canada, getting healthy meals every week is more convenient than ever before. From ready-to-cook to ready-to-eat, these meal kits have options that can quickly satisfy your hunger.
Meal Kits: A Healthy Eating Solution 
Are there any meal kits providing healthy meals for a single person? It isn't easy to find meal kits for singles. You can, however, subscribe to a meal kit that offers two servings within its weekly meal plans. The extra serving can be utilized for lunch the next day.
The main attraction of meal service is the varying meal plans having unique recipes every week. From organic meat to high-quality plant-based food, you have several healthy options for your dinner.
The meal box contains well-balanced ingredients followed by easy-to-follow recipes. The meals require a minimum cooking time and are rich in flavor.
The meal kit delivery service provides fresh ingredients and deliciously healthy recipes straight to your door. Enjoy your weekend, even if you forget to go grocery shopping.
Flexible subscription plans, free delivery options, and affordable cost by every customer are some added benefits of a meal delivery service.
Best Meals Kits For One Person
Singles often have a busy day making it impossible to reach the grocery store. However, to make their mealtimes healthy and fulfilling. 
In Canada, a dozen meal delivery services have popped up. They offer ready-to-eat meals and easy-to-follow recipes that make cooking time-saving and convenient. With so many options to choose from,  filtering out the best meal kit delivery suitable for singles can be challenging. But we did the hard work for you!
Here, we will be discussing some famous meal delivery services in Canada. They offer meal kits for one person at the best competitive price.
Best Price Value: Chefs Plate
With per serving starting at $9.99, Chefs Plate is a reasonable yet the best healthy meal option available in Canada. They have a broad menu where you can choose from 24 varieties of dishes every week. Some meals require 30-min to get cooked; they also have 15-minutes recipes that are perfect for a quick meal.
Variety Of Meals
Being a part of Chefs Plate, you can have great meals from cuisine worldwide. Besides having traditional Canadian dishes, they also have meals from India, Japan, and African-style dishes.
Although the classic meat plan has the widest recipe selection, they also have vegetarian options. They often have low-carb meals in the weekly plans. The delivery service also has a family meal plan if you want to invite some friends for late-night dinner. 
Pricing And Packaging
Chefs Plate allows you to order 2,3 and 4 meals per week. The price for the two-person meal plan will cost you $9.99 per serving. But note that they also demand a delivery charge of $6 if you order two meals two times a week. However, you can enjoy free shipping if you order more meals per week (3 or 4, maybe).
The insulated meal delivery box comes with fresh pre-portioned ingredients and a recipe card. The ingredients are packed in reusable containers. At the same time, the ice packs keep everything fresh during the transition period.
Delivery
Chefs Plate being a leading meal kit delivery service in Canada, ships meals to almost every province in the country. It covers Canada's major cities, including Ontario, British Columbia, Alberta, Saskatchewan, and Prince Edward Island.
The meals will be delivered on your preferred day between 8 am, and 8 p.m. Skip meals or cancel your subscription anytime you like.
Best Delicious Meals – Hello Fresh
Want more variety for dinner? Try Hello Fresh. With different meal plans, they give you more interesting choices of meals. Apart from meat and vegetables, they also have seafood for a single person wishing to enjoy fish and shrimp during colder months. Food waste is minimized by portioning ingredients in sufficient quantities. The ingredients are already chopped, sliced, and minced. You have to add them to your cooking pot to enjoy a luxurious dinner. 
The chef at Hello Fresh makes sure the meal kits have well-balanced ingredients. You can split the portions into two meals or refrigerate the leftovers for lunch the next day.
Variety Of Meals
If you love the variation factor within your meal, then HelloFresh has more options for you. There are different meal plans suitable for people of all tastes. Along with meat and veggie meal kits, they also have Quick and Calorie Smart meals. Where Quick meals can reach your dinner table in just 15 minutes, Calorie smart meals are suitable for a person following particular dietary preferences. The weekly menu also has some gluten-free recipes giving foodies the same exquisite taste. You can also add desserts, snacks, and sides to make your dinner more appealing. 
Each recipe is carefully curated by a top chef and nutritionist, ensuring you get healthy, nutritious meals every week. They use seasonal ingredients and deliver high-quality ingredients straight to your door. The recipes come with step-by-step recipes making it easier for you to sort through dinner after coming from work.
Pricing And Packaging
Hello Fresh meal kits for one person cost $11.49 per serving, and you can order three meals a week. You will be charged with a shipping cost which is $9.99.
The company aims to minimize plastic waste, so they use 100% recyclable products. The ice packs within the boxes keep ingredients fresh and clean for long hours.
Delivery
The company delivers meal kits all across Canada, including GTA. They cover all the country's major cities such as Ottawa, Edmonton, British Columbia, Newfoundland, and more. Meals are delivered between Saturday to Thursday. 
Best Overall – Good Food
Good Food holds an excellent reputation in Canada. The meal delivery service has everything that makes it the best meal kit delivery in Canada. It has impressive meals for one, but it also offers varying breakfast and smoothies in the mix. By being a member of Good Food, you can get croissants and oatmeal bowls without going grocery shopping.
To provide fresh meals to their huge customer base, they use locally sourced products in their meal kits. The best part is it offers free delivery whether you order meals for two people or a family meal basket of 4.
Variety Of Meals
Good Food has the richest menu of all. You can choose from the five different subscription meal plans. The meal kit service offers flexibility to switch between the various meals plans. The meals box comes with an easy-to-follow recipe that is perfect for polishing your culinary skills.
Besides the Classic and vegetable plans they also have Low-Carb and Easy-to-prep options as well. Many of the low-carb meals are also gluten-free giving it another plus point from customers. This makes it easy to find recipes that go along with your dietary preferences.
Add the breakfast box to your weekly subscription and grab healthy nutrients right in the morning. 
Pricing And Packaging
GoodFood has five unique meal plans. The price of each meal plan differs from one another with the Family plan being the most budget-friendly option (starting at $9). The Low-Carb option costs about $14.41 per serving whereas the Vegetarian meals will cost you $10. 
The company gives equal consideration to packaging material as well. The meals are packed in 100% recyclable boxes and have enough ice packs to keep the meal frozen for 24 hours straight. To cancel or skip a week adjust your meal subscription plan through your account. But remember to do it 3-7 days before your next order.
Delivery
GoodFood is the second-largest meal kit in Canada and covers almost 95% of the country. It supplies meals all across Canada including the cities of Alberta, British Columbia, Ontario, Quebec, and Prince Edward Island.