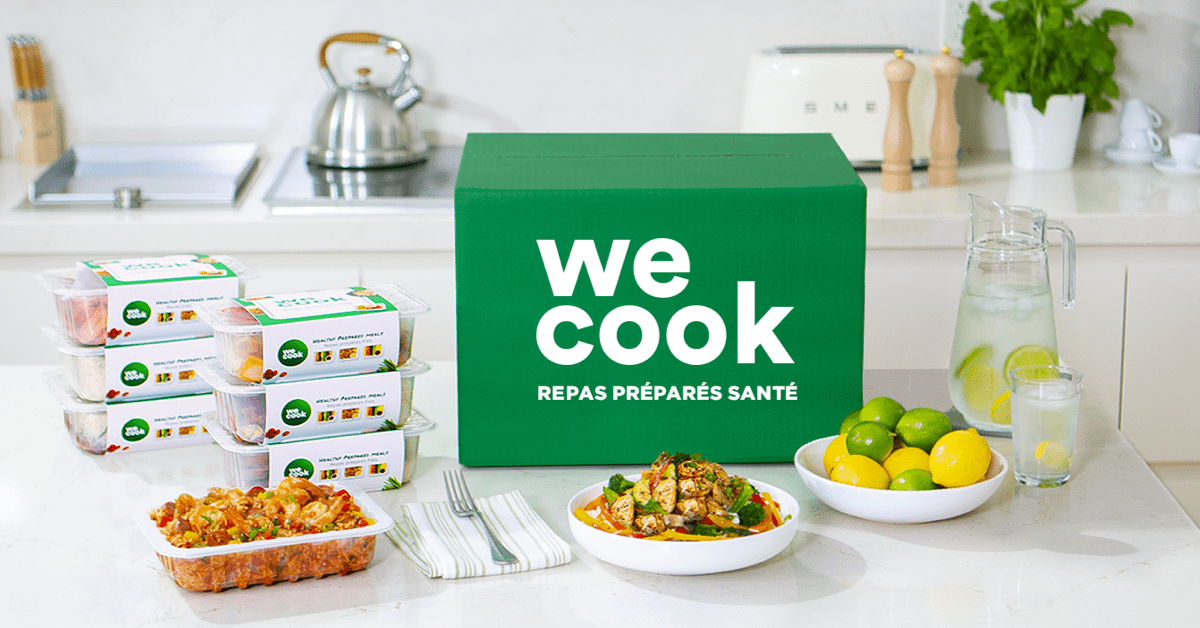 In a Nutshell:
With the social and professional restrictions relating to the Covid-19 pandemic lifting, people all over Canada are finding it difficult and hectic to switch back to their pre-pandemic lifestyle. For almost two years, people got used to the work-from-home and socialize-from-home lifestyle, managing everything at once has become difficult. Due to this, many individuals are neglecting their health and often getting unhealthy food to save time on cooking and making more time for professional and social circles. To offer a tasty and nutritious solution to this many ready-to-eat meal services have sprung up in Canada that claim to provide healthy, delicious, and nutrition-filled meals so that you can enjoy good quality, tasty food without having to spend time on cooking or preparing for your meal.
WeCook is one such freshly prepared meal delivery service that has quickly become Quebec's leader in providing healthy, locally sourced meals delivered right to your door so that you can spend your precious time on other things without having to worry about daily food requirements. Keep reading for a thorough review of certain features and essential information controls about the WeCook service.
What is WeCook?
Established in 2013, WeCook is a leading ready-to-eat meal delivery service in Canada. It provides healthy and delicious meals prepared by an in-house chef in a zero-waste facility using high-quality fresh products from local suppliers. WeCook has one aim, and that is to provide its customers with the best, high-quality freshly prepared meals at affordable prices so that having a tasty and fit diet is the least of their worries. WeCook offers 4 weekly meal plans within which customers also have an option to customize their meals. These meals can be enjoyed by following just 3 quick and easy steps; select your meal, accept the delivery, heat your scrumptious meal, and voila! You can devour your healthy and delicious meal.
How does WeCook work?
WeCook is one of the most user-friendly and easy-to-use websites that you'll come across. With a catchy and interactive website interface, WeCook immediately garners the visitors towards signing up and connects with us using a "$20 off on your first order" pop-up. Once you have opened the website all you have to do is sign up using an email address, select the meat portion you require and the meal plan accordingly, enter the delivery information and sit back and relax while WeCook handles the rest. The service will freshly prepare your meals by their nutrition expert chefs keeping in mind your preferences, nutrients information, amongst others using fresh products from produce and get your ready to eat meals delivered right to your door in environmentally friendly packaging.
Selecting your ready to eat meals plan:
WeCook offers four amazing and money-saving meal plans for its customers to choose from. The 6 meals per week plan costs $12.88 per meal and is perfect for people looking to have one healthy and nutritious meal per day. The 9 meals per week plan are priced at $11.33 per meal. The 14 meals per week plan is priced at $11.32 per meal and is ideal for individuals looking for two nutritious ready-to-eat food portions per day. Lastly, the 22 meals per week plan, which costs only $10.84 per meal, and along with it, you can enjoy three healthy and scrumptious meals every day!
WeCook Menu:
WeCook offers its customers an always-changing nutritious menu with customizable menu options. It provides delicious meals and regularly updates the menu so that the customers do not get bored of the same dishes and keep on enjoying maintaining this healthy diet. Their menu is vast and offers different varieties of food, such as the tempting menu attached for the week of March 21st. The menu also contains short descriptions and real pictures of the dishes so that customers can get a clear idea of what to expect.
WeCook also provides options for snacks and sides and customized meals to cater to your nutrient requirements or allergies. Their sweet potatoes are a consumer favorite and one of their most demanded sides. They also provide sealed food and groceries right to your door.
Pros:
Scrumptious healthy and nutritious meals customized according to your dietary requirements.

Prepares fresh food with high-quality fresh products from local supplies.

Meals only need to be heated before being devoured, hence saving a lot of time.

Continuously changing recipes for every week, hence the variety of foods offered.

Offers free delivery to your door.

Meals are packed and delivered in environmentally friendly packaging.

Also offers sealed foods and groceries, to reduce another hassle from the customer's life.

Fastest and highly efficient service.

Meal plans can be shared with friends and family.
Cons:
Only operates in the states of Quebec and Ontario.

Some users find it relatively expensive.

The weekly rotating menu may be unpleasant for people who like sticking to a fixed monthly menu.

No guests orders are allowed and only those who have subscribed for meal plans can order.
FAQS:
Here are a few of the most frequently asked questions for WeCook.
Q) How much does WeCook cost?
A) The rates of WeCook vary from a meal plan to a meal plan, and hence different users can experience different prices. For instance, the 6 meals plan price per meal is $12.88 while it is only $10.84 for the 22 meals plan per week.
Q) How Do I cancel my subscription?
A) The service offers an easy cancellation service, and anytime a customer feels like canceling their subscription, all they need to do is contact a WeCook agent on 514-885-7587 and the agent will handle the rest. The agent timings are 9 am – 9 pm.
Q) How do the advertising and measurement services enhance the user experience at WeCook?
A) WeCook uses online advertising controlling cookies, advertisement via Facebook products, and similar technologies to improve facebook products and enhance customer experience by saving essential cookies and providing them with active feedback and essential and optional cookies based user experience that caters to their preferences.