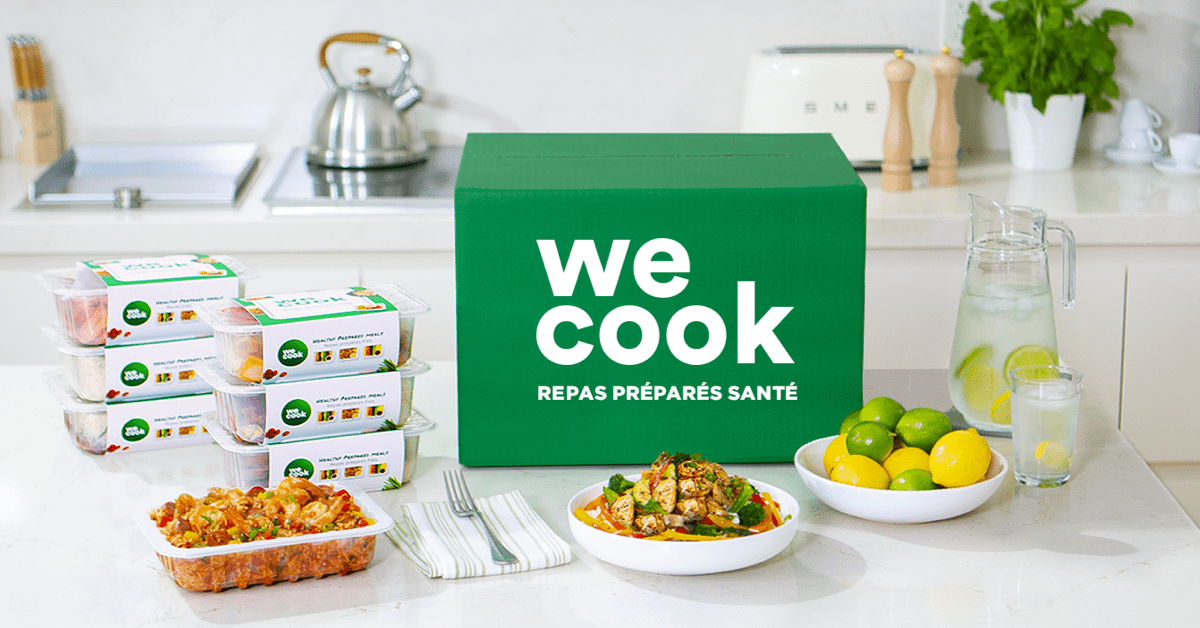 In a Nutshell:
WeCook's meteoric climb to prominence as Quebec's go-to provider of ready-to-eat meal delivery is not surprising, given the company's unwavering dedication to providing only the freshest ingredients.
Besides the weekly menu rotation, they provide a variety of tasty delicacies. This is a crowd-pleaser because no one wants to eat the same thing every day and get bored with their meals.
A weekly menu change solves this problem and keeps you on your toes by exposing you to new flavours and cuisines.
Pros and cons
In Canada, WeCook is among the most widely used meal kit delivery businesses. 
It may not be the best choice for those who like to carefully curate their cuisine, but it's great for people who are always on the go and don't have time to prepare elaborate meals from scratch. 
Based on the feedback, the food is not only healthy but also quite tasty. The company also places an emphasis on sustainability by exclusively using recyclable packaging for its culinary products. 
Although WeCook isn't cheap, it's reasonably priced and perfect for people who are always on the go but yet want to eat well at least once a day.
Pros:
Healthy meals that fuel high-stress occupations.

500+ rotating recipes.

Highly flexible options let you skip weeks, cancel, or change meal deliveries.

Sells bulk vacuum-sealed meat to members.

Free delivery.
Cons:
The ice packs are a nuisance to empty because they contain slush.

Google rating is low.

Reported delays in delivery.
How WeCook Canada works?
WeCook's meal prep delivery services recognize the importance of both a healthy diet and your limited free time by combining the two. All of their meals may be heated and ready to eat in under two minutes, saving you the time and effort of going grocery shopping and preparing a home-cooked meal.
After joining the subscription service, the WeCook menu will be available to you. This feature, accessible via the company's website or app, lets you customize your weekly delivery by choosing individual meals, sides, and serving sizes.
In addition to the meats and other standalone foods that come in a vacuum seal, there is a selection of snacks that can be added to any purchase. You can choose from a variety of weekly-updated menus, each featuring a new selection of delicious and nutritious meals, such as the WeCook Fit Menu.
No matter which plans you choose, you can count on weekly deliveries in an insulted and recyclable box at your doorstep.
Who is WeCook for?
WeCook may work for you if you enjoy large servings. The typical serving size of the WeCook Canada meal kit has between 600 and 900 calories. In fact, it facilitated improved eating habits and cut down on calories.
They are ideal for people who are too busy to cook dinner at home, whether they live alone or with others. WeCook is a great option because it provides convenient home delivery of delicious, chef-prepared meals.
In addition, they provide a rating menu that is regularly updated. Those who value their health but wish to taste new foods every day would benefit most from this service.
Recipes per week

Price per serving

Weekly Total

Regular

Small

Regular

Small

6

$14.55

$13.55

$87.30

$81.30

9

$13.55

$12.55

$121.95

$112.95

14

$12.75

$11.75

$178.50

$164.50

22

$11.75

$10.75

$258.50

$236.50

23

$11.75

$10.75

$270.25

$247.25

24

$11.75

$10.75

$282.00

$258.00

25

$11.75

$10.75

$293.75

$268.75

26

$11.75

$10.75

$305.50

$279.50

27

$11.75

$10.75

$317.25

$290.25

28

$11.75

$10.75

$329.00

$301.00

29

$11.75

$10.75

$340.75

$311.75

30

$11.75

$10.75

$352.50

$322.50
How much does WeCook cost?
The cost of your WeCook meals will depend on the type of membership package you select. After any coupons or freebies are subtracted, the price per meal can range from $10 to $14. You may be able to save money by placing a larger order.
The longer you sign up for, the cheaper your kit will be per week. For each fish, you can select between 100g and 200g of meat. Your $30 per week allotment for 22 meals covers three meals a day.
The weekly subscription price is $120. You have to join in order to see the prices for their vacuum-sealed meats and snacks, which are otherwise unavailable to the general public.
WeCook Canada's meal plans
A consumer can choose from four different meal plans on WeCook. Every single plan is fantastic and economical. People who wish to eat healthy at least once a day should budget $12.88 per week for six meals.
Meat, chicken, and vegetarian dishes are all part of the 14 weekly meal options. For its consumers, WeCook promotes and maintains a healthy, fresh diet. In addition, they provide packaged foods, tasty snacks, and groceries. After you've decided on your main course, you can select from five side dishes: rice, sweet potato, vegetables, and so on.
The 6 Meal/Week plan is perfect if you want to swap out just one of your evening meals for something quick and easy. WeCook delivers to offices, so you can have Chicken Breast Parmigiana with Garlic Vegetable Penne and Rapini and get back to work on time.

The 9 Meal/Week plan from WeCook gives you enough food for lunch and dinner Monday through Thursday, with one dish left over for Friday. If you're a busy mom or a hard-working young professional who wants to eat properly but doesn't have time to learn how to cook, this is a great solution.

The 14-meal-a-week package is by far the most sought after delivery service. People adore it since there are plenty of options for tasty meals.

The 22 to 30-meal plan is sufficient for two people, a small family, or a few friends at work. As the best value per meal of all WeCook plans, this one can be worth sharing with coworkers. So everyone gets affordable and wholesome lunches delivered to work.

Their weekly meal plan with the most meals includes 22 meals for $10.84. The healthy and delicious meals provided by these plans are fully prepared and ready to eat.
How to place an order?
To place your WeCook Canada order, follow these steps:
Log into your account

When logged in, you'll have access to the full range of features

Browse the store and add items to your cart

Finish placing your order

Await the arrival of your freshly prepared meals at your door
The vacuum-sealed goods have a $100 minimum order size, which is equivalent to six dinners.
After your initial order is fulfilled, you can place additional orders at any time during the next few weeks. To help you prepare, we're extending the ordering window to three weeks in advance. The upcoming options can be viewed by clicking the green arrow at the top of the page when shopping in the boutique.
WeCook recipes, meals, and ingredients
On WeCook, there are fewer choices available for those who are constrained by their diet. Their selection of proteins includes beef, chicken, protein in its most basic form, salmon, cod, pork, and shrimp. Some ingredients available on WeCook are free of gluten, low in carbohydrates, and vegan.
The service gives priority to components that do not include any additives or preservatives and makes certain that its meat and fish are ethically sourced.
Spices and mixes often came with a list of the individual components, and the accompanying recipes were not only simple but also very delectable additions to our weeknight meals.
WeCook shipping, packaging, and delivery
Since the company is only active within the provinces of Ontario and Quebec, they are able to offer free delivery services. According to the WeCook menu analysis, there is no requirement for you to be present in your own home for the delivery of your order. If you are unable to answer the door when the delivery person knocks, the box will be placed on your porch.
Keep in mind that WeCook Canada delivers to business and work addresses as well. You can easily make arrangements for your office to receive food delivery if it is something that is very necessary for you.
Your order will be delivered between the hours of 9 a.m. and 9 p.m., regardless of where you are. Each order is sent in a box that is insulated and recyclable, which maintains the excellent condition in which the food is delivered. Having said that, the conclusion of this WeCook Canada meals review is that it is in your best interest to store the meals in the refrigerator as soon as possible.
Is WeCook worth it?
If you have disposable income, WeCook is a good purchase. It enables you to save time, prevents food from going to waste, and cuts down on the number of trips to the supermarket that are required to purchase fresh ingredients.
In addition, the plans are great, and there are hardly any dishes left for you to clean.
WeCook Canada dietary options
WeCook offers a wide variety of nourishing meals, and you can view the nutritional information associated with each dish by:
going to their website

scrolling down to the section labelled "On the menu, this week"

clicking the link that says "View all meals"

choosing the recipe that you want to make
Because WeCook is meticulous about maintaining and carefully updating its information controls, it will make allergens, ingredients, and nutritional information readily available to you.
Instructions and cooked dishes
WeCook advertises on its website that they have a large variety of meal options with a database of more than five hundred different recipes from which to choose for its weekly menus. Plus, the fun part is that all their packages come up with a recipe manual.
If you visit their homepage and scroll down to "On the menu this week," click "View all meals," and then choose a recipe, you won't even need to sign in. Details like allergens, ingredients, and calorie counts will be displayed.
After logging in, you can review the dish's allergens, ingredients, and nutritional value as it pertains to your meal plan's portion size by clicking on the "My Deliveries" page and selecting the meal.
Using a process called "Modified Atmosphere Packaging," WeCook safely stores your food for later consumption. Similar to vacuum-sealing, this method removes oxygen from the food, allowing it to retain its natural freshness for as long as possible without additives.
The majority of recipes call for a meat-based main meal, in addition to a vegetable-and grain-based side dish that includes rice, quinoa, potatoes, or pasta.
You can easily personalize your side dish. If you only want veggies, there will be an additional charge of one dollar.
What makes WeCook unique?
The prices at WeCook are relatively reasonable, with the cost of an average serving falling between $11 and $15.
The best fact that WeCook offers such a wide choice of meals, many of which are low in carbohydrate content, is one of its primary advantages, and the claim that each meal has been meticulously arranged by a nutritionist is one of the company's selling points.
WeCook, much like the vast majority of other meal kit companies, calculates their portion sizes such that they contain exactly the proper amount of food for a single meal that leaves no leftovers.
Competitors comparison
In Canada, where many people lead hectic lives and don't have time to prepare nutritious meals, WeCook Meals fills a niche by providing freshly prepared meals that are ready to eat. Since its inception in 2013, growth has been phenomenal, and in 2020, the company moved its attention to the mass market. In a short amount of time, WeCook has become Canada's go-to service for delivering pre-cooked meals.
Reviews from satisfied customers show that the meal kit service is not only healthy but also exceptionally tasty. Additionally, the brand has a Trustpilot profile, where 1164 reviewers have awarded it 4.6/5 ratings.
How to Cancel the WeCook subscription?
WeCook makes it very simple for you to terminate your subscription at any time.
All that is required of you is to phone the customer care line at the number 514-885-7587, where you will be connected to a real person who will make certain that everything is handled in the appropriate manner.
The sole restriction is the customer service hours, which now run from 9 in the morning to 9 in the evening (no time zone specified).
Conclusion
We found the items to be fresh and of high quality; we were impressed that the pasta was fresh rather than dry, and we appreciated that the canned foods were BPA-free.
Considering that at least 85% of WeCook's products come from Canadian farmers and local businesses or are packaged in Canada, this makes perfect sense.
Overall, the service places a premium on natural, additive-free foods and guarantees that its meat and seafood come from sustainable farms and fisheries.
The ingredient lists on the spice packets and mixes were clear, and the recipes were simple and excellent additions to our weeknight meals. Considerably, WeCook Canada may be one of the best meal kit delivery services.
FAQs
How much do WeCook meals cost?
The cost will vary with the menu items you choose. The average cost of one of our hearty dinners is around $15 (taxes not included). There is no need for starters or desserts because everything is already prepared.
What kind of keto meals does WeCook offer?
Unfortunately, WeCook does not provide any special diet-oriented meals. But if none of our standard menu items quite fit the bill, we can always work with you to create something that does.
Before deciding which meals to eat on a keto diet, you can check out the nutrition facts. If you're watching your carb intake, selecting the "Vegetables Only" option for a side dish is a great way to cut back.
How do you place multiple orders in advance?
After your initial order is fulfilled, you can place additional orders at any time during the next few weeks. To help you prepare, we're extending the ordering window to three weeks in advance.
The upcoming options can be viewed by clicking the green arrow at the top of the page when shopping in the boutique.