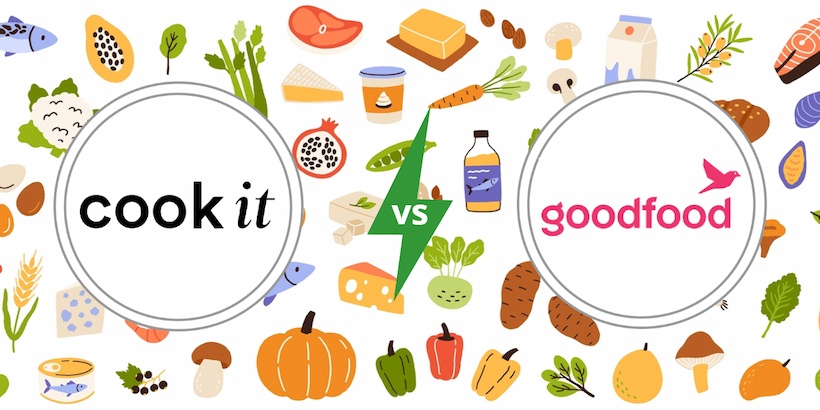 In a Nutshell
As the practice of e-commerce advances, many industries are getting on the bandwagon to provide their paid services on an online platform. Like so, the food industry was quick to get on the bandwagon. Not just this, but advancements in the field give rise to better, more innovative ideas such as meal kit deliveries, and not surprisingly, this trend became widely popular in almost no time. Two of the most popular meal kit delivery services that are the frontrunners of the e-commerce trend in the food industry in Canada are Cook It and GoodFood meal kits delivery services. 
Cook it 
Cook It began operating in 2014, making it one of the first meal kit delivery services in Canada. With innovation, affordability, and tasty nutritious food, Cook It is one of the market leaders ever since! It also has the honor of being the first meal kit delivery service to introduce environmentally friendly meal kits, and this proves their conviction to the good health is not only for the people but also for nature. Cook It acquired a Quebec-based meal kit delivery service in 2019 and expanded its reach by horizontal integration. 
GoodFood
GoodFood was established in 2016, 2 years later than Cook It but it's reach and popularity soared amongst the Canadians due to its healthy and delicious meal kits, second-lowest cheapest rates in Canada, good quality food, huge low-carb food options, and very user-friendly app. Continue reading this article to learn everything that you need to know about these two popular Canadian Meal Kit Delivery Services. 
Cook It vs. GoodFood Features
Cook It is an incredible service, and ever since acquiring Miss Fresh in 2019, they have made a name for themselves in the market. Not only are their delivery services incredibly impressive, but their deliveries are free, which we are sure that most customers would appreciate. Cook It has a remarkable culinary team who carefully plan out meals every week to ensure that their customers are always experiencing new things to eat, and recipes are not repeated too frequently. In addition to this, they only deal in local and fresh ingredients, so you can rest assured that whatever you are eating is made with only high-quality ingredients. Furthermore, their services and meal plans are very extensive, which means that you are not bound by subscription and can easily skip a week or pause your subscription at any given time. With 16 new recipes being introduced every week, you will have a lot of diverse options to choose from. The only drawback is that Cook It does not cater to many dietary specifications and only offers options between either regular or vegetarian. 
GoodFood like Cook It has an excellent delivery system and provides free deliveries. Due to their recipes that are always top-notch and their remarkably high-quality ingredients, they have become widely popular in Canada through the years. They currently only have four meal kits which are the Meat and Veggies kit, a Family Friendly kit, a Low-Calorie kit, and the Veggie Kit; however, the recipes are constantly changing every week to maintain a certain diversity in recipes. In addition to this, their website has an incredibly user-friendly interface and also allows you the freedom to pick out ingredients as well as skip weeks between your subscription without charge if you would like. All their recipes are not only quick and easy to make but also maintain health standards to ensure that all your meals are delicious as well as nutritious. Not to add, the meal portions are larger than average and a lot cheaper than most alternatives. 
Both websites are equally impressive in the aspects of delivery services and the quality of their products. However, due to limited meal plans, GoodFood is most likely not suitable for larger families as it can be challenging to cater to different appetites. At the same time, Cook It is most easily adaptable due to extensive meal plans. Although Cook It might have the lead in meal plans, GoodFood has better pricing and is more suited for people with dietary restrictions. GoodFood not only offers regular meals but also caters to vegans, all at incredibly reasonable prices. There may also be options for people with low-card, paleo, and ketogenic preferences; however, limited they may be. 
Cook It VS GoodFood Meal Pricing
Cook It Meal Plan Chart
Versus subline
2 Serving
3 Serving
4 Serving
2 Meals Per Week
3 Meals Per Week
4 Meals Per Week
5 Meals Per Week
6 Meals Per Week
7 Meals Per Week
Good Food pricing plan
While Cook It has a standard pricing plan, the same cannot be said for GoodFood, which has varying prices even in the same meal plans since the prices depend on the meal options you may have chosen. Typically a single serving of good food will cost less than 8 dollars, but prices vary according to different meal plans. 
The first week's price of an easy-prep basket for 2 recipes of 4 servings can be as low as $60. Similarly, if you order 4 recipes of 4 servings, it can also go as high as $144 depending on what meal option you may have selected.
4 recipes of 4 servings for the classic basket will cost you around $117 or $7.85 per serving, while a family basket will cost you $7.32 per serving or $123 for 4 recipes of 4 servings. 
While Cook It has more extensive meal plans and somewhat less confusing price plans, GoodFood offers more affordable services. Although, both services are equally excellent in terms of the quality of the ingredients and the meals they offer. 
Cook It VS GoodFood Delivery Comparison
Versus subline
Quebec City

Montreal

Halifax

Toronto
Ontario

British Columbia

Maritimes

Alberta

Saskatchewan

Manitoba
Cook It is primarily based in Eastern Canada and delivers to 95% of areas in Eastern Canada, while Good Food's delivery services are more expansive and cover more cities. However, GoodFood CA is based in Montreal and delivers only to the selected cities listed above. 
Cook It vs. GoodFood, who are they good for?
Both Cook It and GoodFood are great for people looking for affordable meal kit delivery services. Both of them are very well suited for people who have limited cooking skills and might be on a time crunch since not only are the recipes easy to follow but very less time-consuming.
For those who want to try different recipes and are selective with their meals, Cook It might be a better option since their highly professional chefs come up with 16 new and delicious recipes weekly. However, those who like to try diverse cuisines might find Good Food to be a more suitable option since, with GoodFood, you will surely see recipes from all over India, Spain, Italy, Greece, and a lot more countries. 
Cook It might also be more suitable for bigger families and families with children due to its extensive meal plans. GoodFood, on the other hand, is better suited for people with dietary restrictions or people on a strict budget. 
Help and Support
GoodFood has excellent customer service, according to many food reviews. Not only can they be reached out through chat via Facebook or Twitter but also through their tolled phone number and email. 
Cook It has an incredible live chat feature on its website through which you can easily reach out to them. In addition to this, you can also email or call them on the contact details provided on their website. They have a fantastic response rate that will not let you down.
Cancellation and Refund Policy
Both Cook It and GoodFood allow you the freedom to cancel or change your order before the delivery, provided that you do it before the cutoff time. GoodFood does not have a refund policy; however, you can return your product for credit which you will have to contact customer support for. Cook It will refund you your money if you cancel in due time. If you miss it, you can contact their customer service, who will check if your parcel has not been packed or shipped. If not, you will not be charged for that order. 
Final Verdict
Cook It and GoodFood are both incredible meal kit delivery services. In terms of delivery services and amazing recipes, they both have the lead, which makes it difficult for us to pick either one of them. However, since GoodFood is better suited for people with some dietary restrictions in comparison to Cook It, is more reasonable, and covers more areas for delivery, GoodFood has the apparent victory. However, if you are looking for affordable services that won't cause a dent in your wallet and will allow you the freedom to try a variety of recipes every week, Cook It should be your go-to meal kit delivery service.