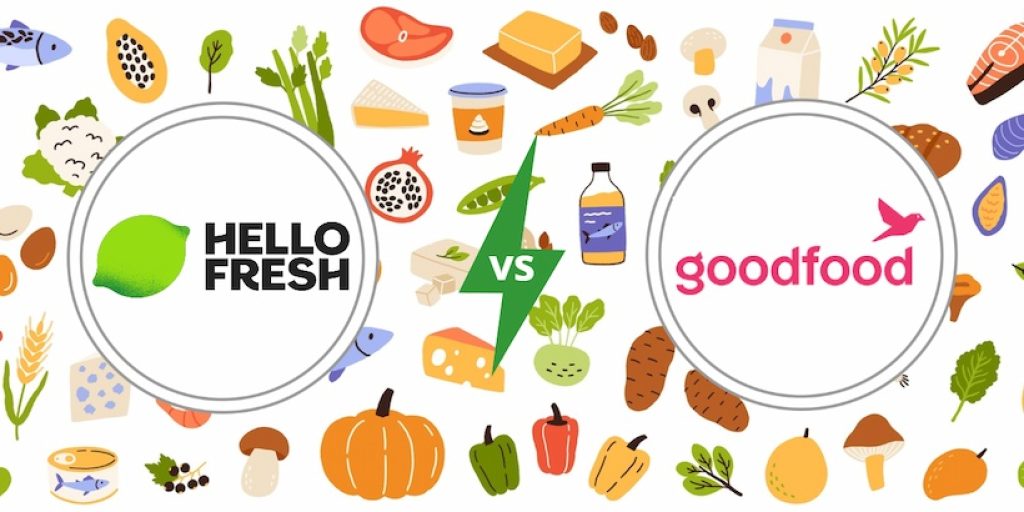 In a nutshell
These days, most industries can deliver your purchases and shopping to your doorstep. The food industry has not been left behind. One of the latest trends in the food delivery sector is the meal kit deliveries, which are pre made meal kits that are sent every week to their consumers who can get the delivery either at home or at work. Fresh or frozen, pre-portioned food ingredients and partially prepared meals, you can find any food you like. Delivery is quick, time saving and quite convenient and should be considered as a good time saving solution by people with busy schedules.
HelloFresh vs GoodFood features
To determine who wins this duel it is necessary to determine where the best meal plans and pricing as this is the core of the service. There are of course more important features such as recipe variety and delivery areas and we will try to touch them all in this Hellofresh vs GoodFood meal kit face off.
HelloFresh is recognized for having consistently tasty recipes and they are ranked among the top for their quality ingredients. It is also one of the most popular and preferred meal kit in Canada. They work hard to deliver clean healthy ingredients and simple tasty recipes to consumers to make preparing homemade meals easy and bypassing the stresses of planning and shopping for foodstuffs. Hellofresh have four meal kits that have been diversified while still fixating on a balanced and healthy diet. Their kits include the Meat and Veggies kit, a Family Friendly kit, a Low Calorie kit and the Veggie Kit. They do have one of the largest average portion size from all Canadian meal kits.
Both HelloFresh and GoodFood deliver to all major regions and cities in Canada. Recently GoodFood announced the launch of a new fulfillment center in Vancouver which will ramp up their operation in the area. Both services try to keep low on waist and pack their food in recyclable and sustainable cold packs. Their app is also the most user-friendly. 
GoodFood, a publicly traded company, has been growing in popularity and passed the 250K subscribers recently. It is one of the most popular meal kit services in Canada. They aim to keep pricing on the lowest side compared to other meal kits in Canada. 
GoodFood vs HelloFresh reviews show that GoodFood prices are considerably cheaper than those of HelloFresh making them ideal for people who are price sensitive. HelloFresh is however considered better in the other categories such as taste and sustainable packaging.
HelloFresh vs GoodFood pricing
When you compare the minimum size packages offered by the 2 meal kits it is clearly evident that GoodFood is slightly cheaper than HelloFresh. Case in point, HelloFresh's Pronto Plan goes for$79.99 while GoodFood's classic basket goes for $69.99.
HelloFresh and Good Food prices are broken down as seen below
HELLOFRESH

Meal plan and number of recipes per week

Price per serving

 No. of servings

Pronto plan

$13.33

6

Family plan

$10.83

12

Veggie Plan

$12.33

6
GOODFOOD

Meal plan

Price per serving

No. of servings

Classic basket

$11.67

6

Clean15

$14.82

6

Easy Prep basket

$12.50

6

Vegetarian

$10.67

6

Family Basket

$10.37

8
HelloFresh Vs. GoodFood Delivery
Both meal kit services deliver to most of Canada. Below you can find a detailed list of the exact locations. If the location you want to order to is not on the list below please contact directly their support team.
2 OF THE LEADING MEAL SERVICE PROVIDERS IN CANADA. DELIVERY IS AVAILABLE TO MOST OF THE NATION
HelloFresh vs. GoodFood Mobile App
Both Meal kits have apps that are compatible with android and iOS. When we try to compare both apps in this  HelloFresh vs GoodFood apps face off, HelloFresh is proven to have a better design and is more user-friendly solution. 
HelloFresh
The HelloFresh app allow users to easily choose their meals for the week and has a cool feature option to use the recipe on the app step-by-step. It can do better with helping users to save menus as they change plans. Also, they can add a reminder to select meals in the app so users dont miss out on meal.
GoodFood
GoodFood App is not on par with what we would expect from the leading player in the niche. The app crashes and freezes too many times. There is no option to access comments. In addition currently the shopping list is not available on the app as it is now available on the website.
HelloFresh vs GoodFood who are they good for?
Both Meal Kit services are both ideal for busy people who have just enough time to cook. If you lack time to decide on meals and go shopping for food, you should consider using HelloFresh or GoodFood to skip these steps. Wouldn't it be amazing to find everything you need for your meal at your door? It is also ideal for people who have a hard time locating and choosing high quality ingredients. HelloFresh services are good for people who have trouble cooking but would like to learn. 
Their Level 1 recipes are simple and offer step by step instructions on how to prepare the delivered meal. People with cooking experience and want to improve can go for level 2 recipes and level 3 recipes to help them sharpen their cooking skills and techniques. The diverse veggie plans from HelloFresh make their product quite appealing to vegetarians and may even open them up to recipes they hadn't imagined before. It also makes for good dinner dates by avoiding the hassle of going out to restaurants and ordering cooked food. GoodFood services are also ideal for people with large families as their cost for the family plan is pretty reasonable. GoodFood prices are considerably cheaper than those of HelloFresh making them ideal for people who are price sensitive.
GoodFood offer dinner meal kits, groceries, breakfast meals and snacks. Within its meal kit service, they launched Yumm, a cheaper meal kit service offering simpler recipes with fewer ingredients
HelloFresh vs GoodFood Meal Options
GoodFood offers a few different meal types including low carb and vegetarian options. In addition they have an easy prep basket with a minimum of 6 servings at $12.50 per serving. We love the clean 15 meal plan which is a super fast food meals to cook. It comes with a minimum of 6 servings at $14.82 per serving. They also offer a classic basket with a minimum of 6 serving at $11.67 per serving.
GoodFoods vegetarian basket has a minimum of 6 servings at $10.67 per serving. Their family with a minimum of 8 servings at $10.37 per serving. For those who want to keep it simple with out much cooking and cleaning they also smoothie boxes at $4.99 per portion with a minimum 12 portions for every order. 
HelloFresh offers consumers options when it comes to meal plans for different numbers of people. These come as 2 people meal plans and 4 people meal plans. The meal plan for 2 people is ideal for a single person and one other person. The meal plan for 4 people is a larger plan ideal for families.
Both companies offer their customers quick meals that are easy to cook. HelloFresh have their 20 minute meal option where you can choose from  dedicated rapid meals each week and be able to prepare great tasting meals in less than 20 min. GoodFood has a section of easy prep meals that take 15-20 min and are very simple to cook.
The Hellofresh menu has a veggie plan that is accompanied with vegetarian recipes and health proteins and rains of plant origin. Their classic Meat and Veggie plan is considered to have the widest variety of fish products, meat products and other seasonal produce. The family plan is designed to offer consumers with larger, fast and simple to prepare meals ideal for family meals. Their pronto plan with a minimum of 6 servings goes for $13.33 per serving and their family plan with a minimum of 12 servings goes for $10.83 per serving. The Veggie plan with a minimum of 6 servings goes for $12.33 per serving
HelloFresh have quite an efficient support team that can provide help with any issue including a request to skip an order or make changes. You can visit the website and click the FAQ on the bottom menu that leads you to their FAQ page where you can find the support chat on the top right. You can reach them via email  [email protected] or at 1-855-272-7002. 
GoodFood can either be contacted by email at [email protected] or by phone at 1-855-515-5191. Their help and support team is available on weekdays from 8am to 8pm and on weekends from 9am to 5pm. They are very reliable and can help you cancel your subscription and apply for refunds. For immediate response you can use the  live chat.
Cancellation and Refund Policy
To cancel your subscription with HelloFresh, log in to your account and click on your username at the top of the page. Go to account settings and click manage to choose the subscription you want cancelled. Then click on cancel my subscription. You will be prompted to fill a brief survey before receiving a confirmatory email. After cancellation refunds are processed in full within 14 days. This is inclusive of the product price and delivery charge.
To cancel your subscription with GoodFood, you would need to contact their Member Happiness Team via live chat, calling 1-855-515-5191 or writing an e-mail to [email protected].
Final Verdict
Coming up with a verdict in the HelloFresh vs GoodFood review is not easy. Both are good meal kit services with undeniable perks. While HelloFresh is more large-scale in comparison to Goodfood, their prices are considerably higher than Goodfood prices. On the other hand, cheap isn't always the best option as many customers proclaim that HelloFresh provides tastier recipes and better variety in comparison to GoodFood. If you are interested in a price-friendly alternative, GoodFood is the answer. However, for high-quality service, good tasty food, and a wider variety of recipes, with a focus on the vegetarian menu plan, you should definitely consider HelloFresh.