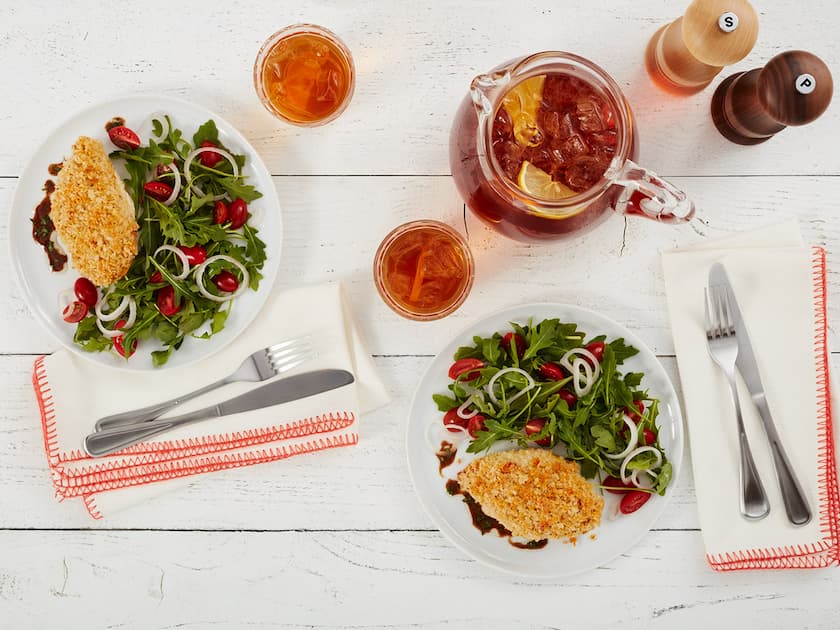 In A Nutshell
Meal delivery services have resolved this dilemma of putting together a healthy, delicious meal regularly. They bring fresh ingredients, chef-approved recipes, and a healthy meal straight to your door every week. These meal delivery services are not only a dream come true but also a life-saver to evade the scorching heat and struggle of trying different recipes amidst all the chaos of life. 
We bring you the best meal kits for two to ensure you devour a happy, fulfilling meal daily. Whether you want to try gluten-free meals or organic dishes on a budget, we have discussed the specialties of all the excellent meal kit delivery services in town. 
Here are the promising meal kits that are perfect for modern-day couples. 
Blue Apron – Interesting meals options 
If you and your partner are foodies by heart, then Blue Apron is the service that will be ideal for you. From delicately designed meals by the country's top chefs to quality services, this meal service is worth every penny. Blue Apron promises and delivers good food with high-quality ingredients only. 
Pricing: Starts at $9.99 per serving

Shipping: $7.99. first shipping free

Availability: delivers to the contiguous United States 

Packaging: 85% of its packaging material is recyclable
Being the first meal kit in the USA, Blue Apron has maintained its status as the best meal delivery service in town. Its primary focus is to keep your meals interesting and tasty, perfect to compliment a romantic date night or a home-cooked meal at home. The meals arrive with a step-by-step recipe card that can be prepared within 25 to 40 minutes. A bonus of a monthly wine subscription that pairs bottles with your meals. 
How does it works:? 
Pick your desired meals from the menu that matches your culinary needs. Their 2-serving Signature option and vegetarian plan for two come with two, three, or four recipes weekly that are enough for two people. The 4-serving Signature is enough to accommodate four people. You can also pre-plan your week with their Meal Prep that gives 8 servings. 
Recomended Recipes
Sour cherry-glazed lamb chops with roasted sweet potatoes & chile yogurt

orange beef and bok choy

Vadouvan Chicken & mango chutney sauce 

za'atar-roasted chicken
Hello Fresh – Meal delivery service with a diverse menu
Say hello to the fresh healthy meals when you want to chill at home without the worries of sweating in the kitchen. Hello Fresh, the largest and most popular meal kit in Canada makes sure that your meals are full of flavor and requires bare minimum efforts. The company offers a great selection of fun, easy-to-make recipes that can easily provide for picky eaters of the family as well.
Plus the delivery is categorized as one of the cheapest meal delivery options. They also offer exclusive veggie options for their vegetarian customers.
Pricing: $9.69 - $11.49 / serving

Shipping: Standard $8.99 per box.

Availability: All 10 provinces in Canada

Packaging: 100% recyclable packaging material
This premium meal kit delivery service of Canada is the only one that offers both gluten-free and 100% hormone free meat on their menus. They even have an option for free delivery in most regions. They offer 25 to 30 meal options to choose from every week.
How does it work? 
The service works by offering 6 distinct meal plans which you can select from their extremely user-friendly website. Their meal plans include:
Meat & Veggies:

a variety of meals that include meat and vegetables

Veggie:

plant-based meals that are vegetarian but not necessarily vegan

Family Friendly:

quick, easy-to-prepare, kid-approved options

Calorie-Smart:

meals that are around 650 calories or less per serving

Quick and Easy:

meals that can be cooked in 30 minutes or less

Pescatarian:

meals featuring seafood but no other animal proteins
Regardless of these well-defined meal plans, you can choose from other plans as well. Enter all your details and you will get a specific day for delivery. The shipments are delivered from 8:00 am to 8:00 pm. If you wish to cancel your subscription, try to do it 5 days before your next shipment.
Recommended Recipes
Korean Beef Bibimbap

Presto Pesto Panko Chicken

Crispy Parmesan Chicken
Home Chef – Innovative recipes with a twist 
Home Chef meal kit delivery service has simplified the process of home cooking with its familiar innovative recipes with a delicious twist to enhance your evening meal experience. Their classic dishes are best for busy couples but want to have home-cooked masterpieces for meals. You can mix and match your meal kit for the number of proteins through the 'Customize it' option. 
As their main focus is to offer maximum convenience, you can enjoy 30 weekly meals prepared in 5-minutes to elaborate entrées in 30+ minutes
Availability: 98% of the USA 

Pricing: $8.99 Per Serving

Shipping: $6.99

Packaging: PET liners are fully recyclable, and boxes and dividers are partially recyclable.
From saving your time in meal preparation, their add-ons are also quite appetizing such as 5-minute lunches, fruit baskets, and smoothies. Their meals can be cooked effortlessly in less time. With 30 minutes meal kits, express meal kits, and Oven Ready Meals, the days are long gone when you had to sweat in the kitchen to prepare a decent meal. 
How does it work? 
Initially, you will have to clarify your dietary preferences, allergies, level of interest in cooking, and cooking priorities to get a meal plan that will match your needs. They offer a weekly menu comprising 12 dinner choices, including vegetarian options. 
Their meal plan options include: 
Classic Meal Kit: pre-portioned ingredients and quick recipes with cooking time from 25 to 60 minutes. 

15-Minute Meal Kit: exclusively prepped meals that can be put together in 15 minutes. 

Fast & Fresh: Can be assembled and quickly cooked in a microwave. 

Oven Ready: Pre-portioned ingredients and a grill-safe bag.

Protein Pack: It comes with two or more à la carte proteins such as boneless chicken breast, New York strip steak skin-on salmon filets, and many more.
Recommended Recipes:
Chicken with grape tomato-pine nut vinaigrette and truffle cream tortellini

Beef meatloaf sliders with BBQ red potatoes

Chipotle shrimp tostadas with guacamole and queso fresco
Fresh Prep – Most convenient quality service in town
Fresh Prep makes the best option for couples in and around Vancouver and Victoria. With the ultimate aim to add fun to your cooking expeditions, Fresh Prep simplifies your meal planning and brings the locally sourced pre-cut, pre-portioned ingredients right across your door and you just have to toss them in the pan for a healthy scrumptious meal. Plus you can also order cooked food through them as well. 
Pricing: From $9 to $11 per serving 

Shipping: Free delivery 

Packaging: Comes in recyclable boxes that have to be returned 

Availability: Vancouver and Victoria only 
How does it work? 
For you and your partner, you can opt for a two-person plan which allows you to get your ingredients 2, 3, or 4 times a week. They offer 10 meal options to choose from. To avail of the service, you will simply have to sign up for an account and specify your likes and dislikes, location, dietary preferences, etc. Using your info they will make a customized plan, especially for you. 
You can also add breakfast items, juices, or side items. If you are a vegan and vegetarian it's better to keep a check for the recipes offered that week. You can even skip a week in case you are on vacation or out of the house. Its special services include: 
Zero Waste Kit

of Fresh Prep is at least one menu item per week. Its reusable box is packed with all the ingredients you will need. 

The earth-friendly kit

consists of zero waste products and products that you can either eat, wash, or sent back with the box. 
Recommended Recipes:
Seared cod with sun-dried tomato dill mayo with basmati rice and carrot fries.

Belizean Stewed Chicken with spiced kidney beans 

Coconut beef curry with potatoes and green peas.
Why do you need to opt for the best Meal Kits for two? 
Meal prep for two every evening gets challenging when you have tons of other chores on your list. Opting for meal kit service will mean amazing benefits that are even hard to list completely. Some of the benefits you get are: 
Healthy nourishing meals:

Meal kits work to keep calories in check and encourage healthy eating. 

Extraordinary convenience:

No meal planning, grocery shopping, and long hours in the kitchen. Hence saves your precious time. 

Budget-friendly options

: Especially for two, meal kit options are inexpensive compared to fast food options. 

Restaurant-style meals:

The chef-designed recipes are perfect for making couples enjoy quality meals at their home only. 

Extensive culinary options:

Meal-kit services offer numerous ready-to-eat options from different cuisines and unique cooking styles.