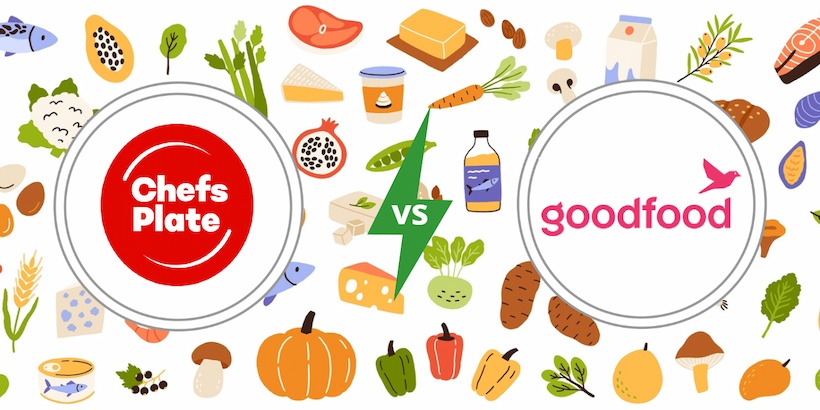 In a Nutshell 
In our detailed comparison, we have Chefs Plate and Good Food Canada's leading meal delivery services. Both are committed to delivering fresh, pre-portioned ingredients along with recipe cards at your given address. They deliver in the majority of the Canadian regions and offer attractive promos and discounts. Their websites ensure a streamlined experience and apps further enhance convenience. 
Chefs Plate vs Good Food features 
Chefs Plate and Good Food are two of Canada's greatest meal kit services, delivering ready-to-cook supplies and recipe cards for easy meal preparation. They make sure you have a healthy and delicious meal, despite your hectic schedule. Choose from their weekly rotating menu and receive the fresh ingredients at your doorstep. 
To determine which meal kit service is superior to the other, we examine their offerings and specialties in depth. So, let's take a closer look to see which one is the best.
Good Food started its operation in Canada in 2013 whereas Chefs Plate, established in 2014 was acquired by Hello Fresh in 2018. Both the services offer the same meal options of lunch and dinner that can serve two to four people. 
Chefs Plate is hailed for its affordable meal plans and appealing promo codes. They have two promo options you can either go for a 15 free meals discount or eight plates free when you opt for a family-size kit. Its minimum order requirement is 2 and a maximum of 4 meals per week. Good Food service has no restrictions on its order placement. 
Where Chefs Plate rotates through 22 recipes a week and allows you to review three weeks' upcoming recipes in advance. With Good Food, there are 18 new recipes weekly and four upcoming week's meal plans. We found vegetarian options of Chefs Plate better than Good Food which makes it an ideal service for people following vegetarian diets or avoiding meat. Good Food comes with more varied meat dishes than its counterpart. If you are a meat lover then you are sure to enjoy their menu more. 
The ingredients for the meals are sent in an insulated cardboard box that remains fresh for a week at the latest. The seafood items are advised to be consumed for a better fresher taste. 
Chefs Plate vs Good Food Pricing 
The exact price will be determined by the type of plan you opt for. The food options can be altered easily in the next plan if you wish to change or add something. These meal kits are designed for customers to offer good food at a reasonable rate. 
Therefore Good Food's meals start from $9.36 per plate and Food chefs' meals cost just $8.99 per plate. You can avail of free shipping with Good Food above the order of $72.67 which includes three meals for two people. For Chefs Plate the minimum order is $59.94 to avail of free shipping. 
With Good Food, you cannot offer two meals together like Chefs Plate rather you will have to go for four people option. In the case of pricing, Chefs Plate has our vote because its total cost per plate is lesser than Good Food. In the long run, Good Food can cost more as the servings are almost the same. If you wish to save money then Chefs Plate is the best. 
It comes with three unique options. 
Meat & Vegetables: $8.99/serving 

Family: $8.99/serving

Vegetarian: $8.99/serving
(All come with a minimum of 4 servings)
They have some added options in their menu such as low-carb and vegetarian options. 
Easy Prep Basket: Minimum $12.28/serving

Clean15: Minimum $13.39/serving

Classic Basket: Minimum $10.38/serving

Vegetarian Basket: Minimum $10.09/serving

Family Basket: Minimum $9.70/serving
All their menus have 6 servings except for Family Basket which starts with 8 servings. 
You'll spend $9.99 per part plus $6.00 for shipping when you get a two-person box from Chefs Plate that includes two dishes. A three- or four-recipe box for two people will cost $9.99 for each portion with free shipping at the same time.
Chefs Plate charges $8.99 per part for a dinner kit for four people, regardless of the number of recipes in the package (you can choose between 2 to 4 recipes).
Delivery Comparison 
Both our top trending meal kit services deliver to most of Canada. Some of the major areas are listed below if your area is not on the list contact the respective support centers. 
Chefs Plate vs Good Food who are they good for?
The popular meal kits Chefs Plate and Good Food offer an incredible opportunity to enjoy tasty healthy meals minus all the hurdles of running for groceries and planning meals. These services are ideal for the following people: 
love cooking but don't have ample hours to serve in the kitchen.

prefer to eat healthily.

Does not want to hunt for new recipes to try every day.

Busy people who cannot preplan their meals.  
So, subscribing to these services means no more tiring grocery runs and end-time crises in the kitchen. You can successfully prepare their meals within 15 to 30 mins max. Besides, Good Food not only offers dinner meal kits but also provides breakfast meals, snacks, and an online grocery facility. They have launched an even cheaper meal kit service Yumm that is designed to facilitate the novice chefs in their kitchen adventures.
Chefs Plate vs Good Food Meal options 
Chefs Plate offers three plans to its customers which are veggie-based. Their meal categories include: 
Good Food has more meat dishes than its counterpart. Its weekly 18 recipes are divided into the following five categories:
Chef's Plate has better meal varieties and easy-to-navigate meal categories in their menu. The family-friendly meals and recipes from different cuisines make it an appealing choice. It has something for everyone.
Customer Service Comparasion
Cancellation and Refund Policy
To cancel your Chefs Plate order, go to your account and choose the week that you would like to cancel. This is also the same step if you would like to skip a delivery. You will be issued a refund within five to seven days.
To cancel your subscription with GoodFood, you would need to contact their Member Happiness Team via live chat, calling 1-855-515-5191, or writing an e-mail to [email protected].
Final Verdict 
Announcing a specific winner is not possible here because both the services are incredibly similar in their functioning and each suits customers based on their needs. They offer compatible meal types, ease of ordering and cooking, and portion sizes. 
But if you have to pick between one then Chefs Food offers a budget-friendly option which can be prepared instantly. And if you need healthier options and better dietary meal plans then Good Food is where you should be.