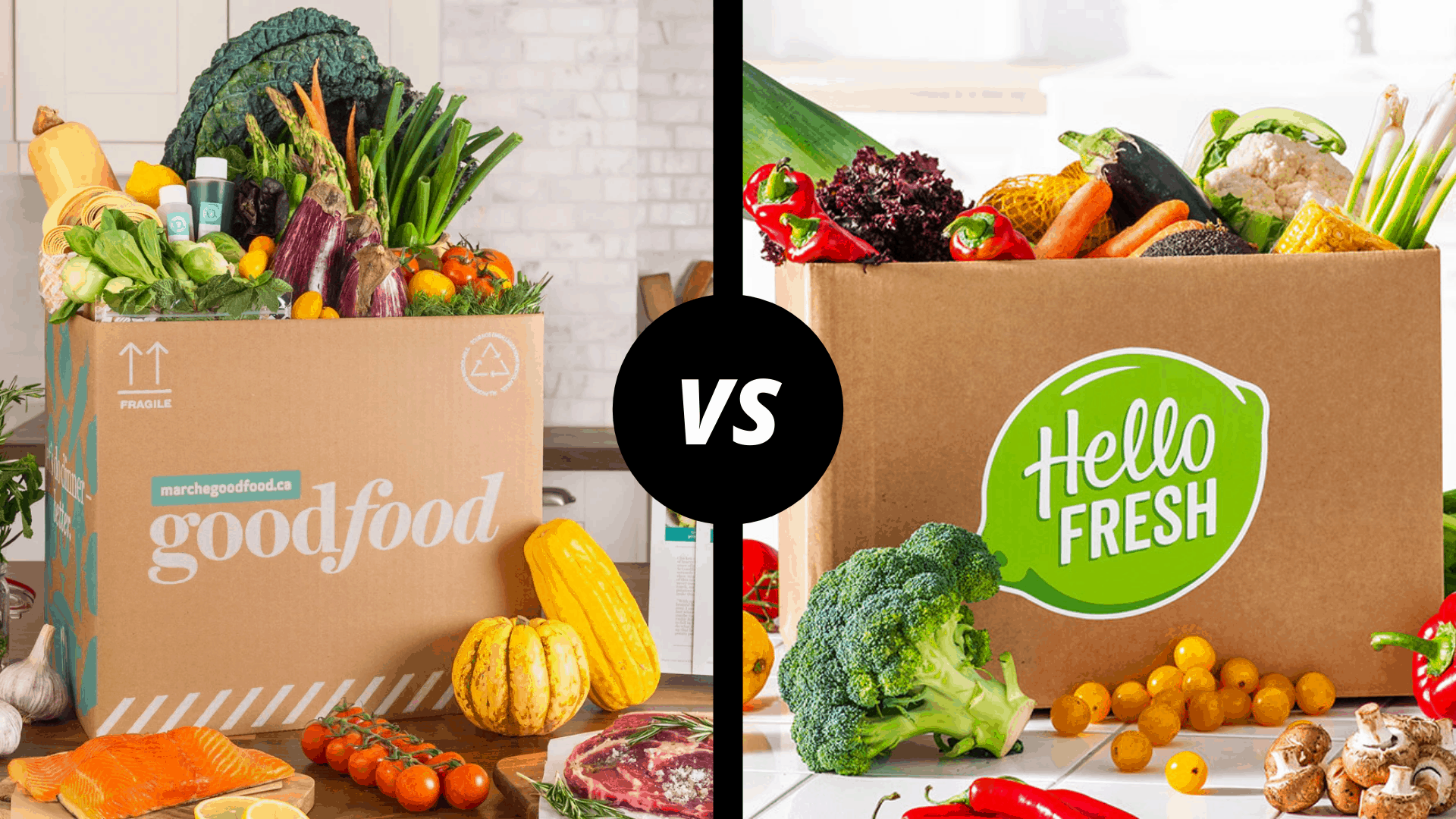 In A Nutshell
GoodFood, HelloFresh and Chef's Plate are the most sought out meal kits in Canada. The three companies give equal consideration to quality and freshness. The menus are also filled with varying recipes and flavorful meals.
Chef's Plate is a part of HelloFresh, but the two companies differ from one another on various fronts. For instance, Chefs Plate offers the best value and has quick recipes. But if you go for Hello Fresh or Good Food, the recipes require more cooking time. However, you can enjoy more meal variations with the latter two options. Free delivery is another benefit you can enjoy with Chef's plate.
For a detailed comparison of these three meal kit services, dive into the content below. From their interesting weekly meals to areas where the free delivery option is available, we have discussed every aspect of these three meal kit companies to pick one that ticks the most boxes on our search list
GoodFood VS HelloFresh VS Chef's Plate
GoodFood, HelloFresh, and Chef's Plate are the three leading meal kit companies in Canada. Although Chef's Plate was acquired by HelloFresh the two are quite different from each other. All these top meal delivery brands offer delicious recipes with varying flavors but they also differ from one another on some level. We compared them based on their meal plans, pricing, packaging, and compatible delivery zones to evaluate how one brand is better than the other. 
GoodFood forms the second-largest portion of the Canadian meal-kit market. Chef's Plate claims to be the only company registered safe by the Canadian Food Inspection Agency. However, if you live in a rural or suburban area HelloFresh is the only one delivering fresh groceries to your doorstep.
Where HelloFresh brings you about 22 meals a week, Chef's Plate and GoodFood give you about 15 to 12 weekly meal options to choose from. But unlike HelloFresh and Chef's Plate, GoodFood doesn't point out allergens in their recipes. The meals coming from the three meal brands are carefully put together by expert nutritionists, they vary in terms of calories: GoodFood 350 calories, HelloFresh 420 and Chef's Plate 400.
The three meal kit companies offer a range of unique meal plans with options to customize recipes. You can switch the meat with a plant-based protein. No matter what meal delivery service you choose, you can order kid-friendly and family meals from.
Pricing Plans
Pricing is often the first thing customers review before opting for a meal kit delivery service. 
Comparing the three meal kit services we noticed a major difference between the prices. Although with HelloFresh you get to enjoy the freedom of choices in their meal kits, the pricey aspect of the service ($12 per serving) may not suit everybody. For a budget-friendly option Chef's Plate with $9.99 per serving is a more suitable option. As for GoodFood, it lies somewhere in between ($10.43 per serving) the latter two.
A deeper breakdown of the prices of these three top meal kit services goes as follow:
GoodFood
GoodFood has four different meal plans and you can order 2, 3 and 4 meals per week. The plans are all in the range of $9-$14 per serving. The prices decrease when you increase the number of servings per box. 
But unlike the other two delivery services, there are no promotion codes offering discounts on your first order.
Meal Kit Feature
Versus subline
Meals per week
No. of Servings.
Cost Per Serving
Classic Basket
Clean 15
Vegetarian
Family Plan
 $11.16
$9.66
$14.41
$12.55
$10.13
$9.27
$10.04
$9.01
HelloFresh
HelloFresh is a bit pricier than GoodFood. They let you order 3 or 4  meals per week with little variance with serving size.
If you order  3 meals for 2 people it will cost you $11.49. However, if you order 4 meals a week with 4 serving it will cost you $9.69. Besides, you have to pay a shipment fee of $9.99.
As a part of their promotional campaign, you get to enjoy free shipping along with a considerable discount on 16 meals.
Chef's Plate
Unlike the above two meal services, Chef's Plate is the most cost-effective option. You get to choose from three meal plans including Meat And Vegetable, Vegetarian, Family-Friendly. You can 2, 3, or 4 meals per week with shipping being free on orders above $45.96. 
Ordering 2 meals with 2 servings each cost around $10 per serving. For this order you will have to pay a shipping fee of $6. However, if you order 3 meals with 2 servings each it will cost you $10 but with shipping being free. Increasing the serving size to 4 people will bring down the price to $8. With the promotion code you will receive 15 free meals on your first two boxes.
Comparing The Meal Plans
GoodFood, HelloFresh, and Chef's Plate all strive hard to deliver the best quality products to their customers. They pack locally produced fresh ingredients within their meal kits. The three services allow home Chef's to customize their meals in case they want to swap protein with seafood/plant-based protein. All of them have Family-Friendly and Vegetarian Boxes for their customers. The companies offer easy-to-cook recipes requiring basic cooking skills. 
The incredible breakfast menu is an added attraction for most GoodFood subscribers. Granola, oat bowls, smoothies, pancakes, pastries, and you can even order coffee if you like.
HelloFresh also offers a changing selection of desserts, snacks, and sides. Something that Chef's Plate lacks.
Meat And Vegetable Plan
The Classic box offered by each company gives you recipes containing meat, seafood, and vegetables. GoodFood has five main subscription dinner plans. But their weekly menu contains only 12 recipes and only 3 vegetarian options are included in the mix. In between the three brands, HelloFresh has an exquisite 22 meals rotating menu giving you a taste of each palate. As for Chef's Plate, they have 15 options under this category.
HelloFresh recipes require a good 30-45 minutes of preparation time making them ideal for people who love cooking chef-style meals at home. As for GoodFood and Chef's Plate, you will have a combination of meals with varying cooking times. 
Easy Prep Meal Plan
GoodFood has an Easy Prep meal plan that requires a minimum of 15-20 minutes of preparing time. For busy and inexperienced cooks Chef's Plate and GoodFood have healthy choices as most meals can be prepared in just 15 minutes by following the simple three steps mentioned on the recipe card. 
Low Carb Meal Plan
The Clean 15 of GoodFood contains all low carb-meals such as shrimp, pork chops, grilled chicken, and more. HelloFresh on the other hand has a Smart Meal Plan where you can enjoy low-calorie, low-carb recipes with ease. We love the fact that you can avoid sugary food but can savor delicious food containing lean meat, whole grain, and leafy vegetables. But Chef's Plate is not suited to people wanting to keep a tab on their calories. 
Delivery Areas
GoodFood has headquarters in Quebec and Montreal whereas the other two operate from Toronto.  All three companies deliver meal kits to almost all the regions in Canada including the following areas
Alberta.

British Columbia.

Manitoba.

Nova Scotia 

New Brunswick.

Ontario.

Prince Edward Island.

Saskatchewan
Canceling And Skipping Meals
The companies auto-renew your subscription for the next week. However, if you need to change, cancel or skip meals, you need to adjust your plans through the account settings.
Canceling and skipping meals is also a straightforward process. GoodFood demands customers to cancel the plan 3-7 days before the delivery date. HelloFresh and Chef's Plate want their clients to make any changes before Wednesday.
Environmental Friendly Packaging
The three brands being the leading meal kit services in Canada pay special attention towards packaging the meals.
GoodFood packages the meals in thick insulated boxes that keep the product fresh for 24 hours straight. However, it wraps every ingredient separately in plastic bags making it less attractive to people concerned about the environment.
HelloFresh and Chef's Plate use insulated boxes that keep meals fresh for 12 hours. But during our review, we saw how concerned the brand is about the environment. Since they use 100% recyclable boxes and pack products in paper bags. This makes it easy to dispose of them at the curbside trash bin.
Which One Should You Choose?
Favoring one brand over the other might not be justified. Being the leading brands in Canada they have meals and recipes that are brimming with taste.
HelloFresh has mouthwatering recipes that are rich in flavor but they are ideal for people who want to polish their culinary skills, want more dinner recipes, and are fine with the high prices.
But if you want recipes that can be quickly put on the table, GoodFood and Chef's Plate have perfect options for you. Besides, if you have more mouths to serve, both companies have Family meal kits that are reasonably priced.