Are you unable to make regular visits to the grocery store? Or are you hoping to make mealtime a whole lot convenient for yourself? In either case, meal kits are here to save the day!
Over the last couple of years, new businesses have popped up all over Canada. They offer pre-made and fresh dishes, as well as pre-portioned ingredients. They are both delicious and time-saving. 
Regarding the use of these services, Ontario ranks number four at 8.4% of the national average. In 2020 alone, over one in four households have tried a meal kit. This is because meal kits offer convenience, simplicity, and the excitement of tasting new foods. Furthermore, you can delve deep into the different kinds of cooking techniques out there. 
Businesses providing meal kits ensure that you no longer have to spend hour after hour on grocery shopping. But the best thing about these services is that their food is healthier than most takeout meals. 
The best meal kits in Ontario
HelloFresh
HelloFresh
 delivers to no less than 95% of Canada's population, including Ontario. It offers several meal kit options— including carb-smart, calorie-smart, beyond meat, family-friendly, and premium options designed for special occasions—that cater to many nutritional needs. 
HelloFresh also allows you to swap out some ingredients in favour of vegan alternatives, proving it to be very customizable. The recipes are easy to cook, and most meals take 35 minutes to prepare and cook. The business offers meals that have been prepared beforehand, as well, in case you are too busy to too tired to go through the process yourself. 
Noom
Noom is a mobile app that provides personalized strategies and offers a simple and easy way to achieve your diet goals.
The app encourages you to track your food consumption, exercise, and weigh-ins. It sends messages to your other group members and health coach for additional encouragement. 
Noom uses a psychology-based curriculum that promotes self-efficacy and gives you the knowledge and skills required to achieve the behavioural adjustments that are the foundation of effective long-term
weight loss maintenance
.
KetoCycle
Keto Cycle is an app that brings ease and convenience to ketogenic diets. There are no two identical programmes with Keto Cycle. To help you get results faster, they adapt your plan depending on your lifestyle, health, age, personal preferences, and dietary requirements. 
Professional nutritionists and behavioural scientists created the app to aid in weight loss while keeping you as safe as possible. Meal planning is made easier for you with Keto Cycle; you can get recipes with ingredients you love that are simple to prepare for breakfast, lunch, supper, and snacks. 
The app can also help with workouts, and it connects you with the community while allowing you to keep track of your overall progress. The app covers many of the concerns of people pursuing a ketogenic diet, making it an ideal application for keto enthusiasts.
DoFasting
The trendy intermittent fasting technique that is all the rage may be easily approached using DoFasting. Customers may take a 60-second survey to help them create an intermittent fasting regimen that best fits their schedule. DoFasting gives clients the tools they need to keep on track and enables them to monitor their progress. This app is unmatched in the market, with seven intermittent fasting periods and a rating of 4.2 out of 5.
Papa Earth
Papa Earth is a meat delivery business that delivers high-quality meat from nearby farms to your house. All Papa Earth's suppliers are based in Ontario, and they were all hand-picked for their adherence to free-range or other humane agricultural techniques. 
While shipping is free for residents of Ontario and Quebec, it might be expensive elsewhere. Papa Earth's service makes delivery of quality meat to your doorstep incredibly convenient with their subscription and non-subscription alternatives so that you can have delicious meat at any given time.
Cook It
Cook It is known for its flexibility, and the two plans it offers accommodate a large customer base. Its vegetarian and regular menu both offer 14 meals. You can choose from two to seven meals weekly, with around two to four servings per meal. Cook It is an ideal meal kit delivery service for people who are short on time when it comes to meal planning and grocery shopping.
We Cook
We Cook delivers meal kits that have been freshly prepared to your doorstep. An in-house chef perfects the healthy meals for you, using fresh ingredients provided by local suppliers. We Cook meals is suitable for singles, families, and novice cooks who want to build a healthy lifestyle without spending hours in the kitchen.
Isabelle Huot
This is an excellent service for anybody who's trying to lose some weight. Nothing less than extraordinary can be said about Isabelle Huot's recipes. 
The service offers cooked meals that are ready to eat, as well as frozen meals. The meals have a longer shelf life than most other prepared dinners on the market since they contain a lot of veggies and may be kept in the refrigerator for up to 77 days. This service collaborates with nutritionists and dieticians to guarantee that meals are nutritious.
GoodFood
GoodFood is one of the better-known meal kit delivery services in Ontario and in Canada. The service works well both for single meals and meals for large gatherings. GoodFood provides the supplies and instructions to make the dishes you choose. You can be engaged in the process and easily make a freshly cooked, delectable, and nourishing meal.
LiveFit Foods
LiveFit Foods does not provide meal plans but rather allows you to add or remove as many meals, entrees, snacks, or desserts as you desire. LiveFit, which claims to be Canada's top meal delivery service, is aware of the need to offer meals specially prepared to satisfy particular dietary requirements, such as keto-friendly, vegan, gluten-free, and weight-loss meals. 
The service also supports specific diets—from juice and soup cleanses to fat-burning and muscle-gain meals. It is the ideal meal delivery company for diet-conscious folks and makes for one of the most flexible services on the market.
Revive superfoods
A balanced, nutritious lifestyle doesn't have to be difficult to maintain, thanks to Revive Superfoods. The service offers nutritious, delectable meals and is free of preservatives in the most convenient forms: frozen, prepared for blending, and delivered straight to your home. Additionally, the service carries a limited variety of single-serving cups of soups, plant-based meals, and frozen oats upon delivery. Revive Superfoods offers great value with fair rates and free shipping.
Yumba
Yumba is a food delivery service that is reasonably priced. Although it does not currently provide meal kits, it has excellent selections of cooked meals. Yumba has been mentioned in magazines such as Foodie Tribe and Toronto Life and has been praised for its excellent reputation. This service is distinctive because it collaborates with Toronto's top chefs to offer customers some of the best-tasting, iconic dishes. There are four meal-plan choices, with serving sizes ranging from 4 to 12.
Power Kitchen
While most meal delivery services strive to provide a wide variety of meals at competitive prices, Power Kitchen emphasizes growing its clientele more than anything else. As a result, it offers a variety of meal plans designed to meet different fitness goals like bulking or shredding. 
Their meal plans are also versatile, enabling you to select the weekly meals and the types of protein you want. Recipes are updated weekly and rotate on an 8-week basis on the company's menu. It keeps you from developing a taste for anything in particular and gives you a wide range of foods to consume while still sticking to your diet and exercise objectives.
MealFix Canada
MealFix delivers satisfying meals right to your front door. The service is sustainable and meals are delivered in biodegradable containers. 
MealFix does not require a weekly subscription, making it a good option for those who want to try the meals but are not looking to commit to regular meal deliveries. The meal plans they offer are easily customizable, making them suitable for individuals as well as larger parties.
Clean Plates
People who are health-conscious, keen on exercise, or just too busy to cook are the target clientele for Clean Plates. Locally obtained ingredients are used to produce delectable and healthy meals created by chefs and nutritionists. 
Clean Plates offers portion-controlled meals to help you keep a close eye on how many calories you are likely taking. Their prepared meals conveniently eliminate the hassle of cooking and take on the task of monitoring calorie intake. 
Athlete's Kitchen
Athlete's Kitchen is a food delivery business that offers customers convenient and healthy meals. They prove that you can eat delicious foods while still getting the results you seek. Since they are confident that their approach can change people's lives, they have developed a program that promotes a healthy lifestyle.
They include flavours from many cuisines worldwide, cooked in healthier ways. They make fresh dishes from scratch every week to preserve quality and freshness. Thanks to the weekly rotating cycles that Athlete's Kitchen offers, you can't get tired of their meals. 
Easy Mealz
As the name suggests, if you want hassle-free, regular, and punctual meal kit deliveries at affordable prices, Easy Mealz is ideal for you. They provide different healthy and tempting dishes, along with various unique services like fresh basket deliveries to your doorstep. With Easy Mealz, you can stock your fridge with the best healthy food and fruits to maintain a healthy lifestyle. 
eFresh Meals
If you don't want to compromise on the richness of your food palette while maintaining your health, eFresh Meals is the perfect choice for you. They offer various exquisite meal options that are delivered to your home. The food is prepared by experts, made from the freshest produce, and presented beautifully. 
Plant Prepped
There may often be a lack of vegan, plant-based foods among meal kit delivery services. This is where Plant Prepped comes in as one of the best and most convenient options for vegans in Canada. You can subscribe to a plan, place your order, and get all the pre-measured ingredients and a simple step-by-step recipe to follow right to your door. All you have to do is mix the ingredients and enjoy a healthy, nutritious, and fresh plant-based meal. 
Longos
Longos is a popular supermarket chain in Ontario, known for its quality products and reasonable prices. Recently, Longos is also gaining popularity in the meal kits delivery services market following its introduction of pre-made meal kits. These kits can be ordered anywhere, anytime, and they do not require a subscription. Longos delivers the best pre-measured ingredients and an easy-to-follow recipe. 
FreshCity Farms
What better way to get fresh and organic produce and groceries than to have them delivered from a farm. FreshCity farm brings you the best and freshest ingredients so that you can enjoy locally produced, fresh, and organic food from the comfort of your home. They deliver 7-days a week in Toronto and also offer multiple weekly deliveries in GTA so that you never run out of fresh produce.
La Boite du Chef
La Boite du Chef has a lot to offer; they provide Michelin star, restaurant-quality meals in the form of inexpensive and delicious gourmet meals. They offer various packages that you can order for yourself or your family. The best thing about La Boite du Chef? They do not require a subscription, so you can order any day, anytime, anywhere. 
Meal kit delivery in Ontario: our final thoughts
There is no doubt that meal kit delivery services streamline the process of meal planning and preparation. These services are an excellent way to nudge yourself out of a rut and explore different combinations, cuisines, and flavours that are easily delivered to your Ontario home.
Read more about meal kit delivery services in other Canadian provinces: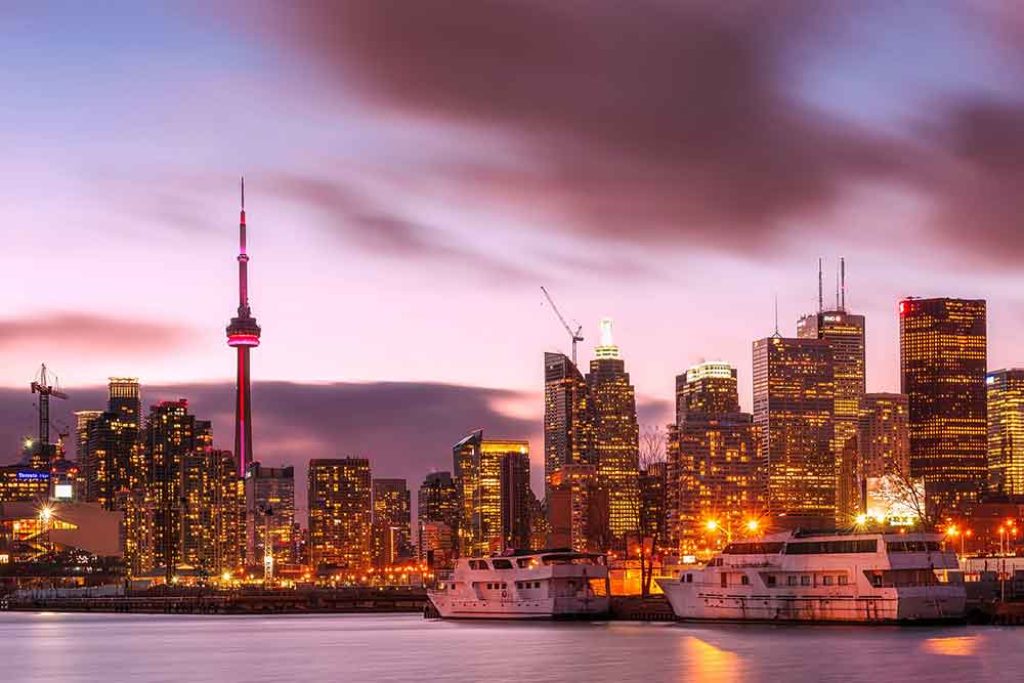 What does Ontario have to offer?
Ontario is the proud home of Niagara Falls and the vibrant city of Toronto, as well as the Thousand Islands. It is nothing less than a sanctuary for people who love being close to nature. It is a beautiful place to take a break, especially when the hubbub of daily life becomes a little overwhelming. You could always make the trip to this city and enjoy a little tranquillity.
Even if you take some time off, you must be well-fed. If you do not want to spend your break in the kitchen, prepping meals for yourself, using a meal kit delivery service can help!
How do meal kit services work?
Ontario offers many options for meal kit deliveries, and many of them operate in similar ways:
You register for the meal kit delivery service online.

You place an order, choosing meals based on preference.

Your order is prepared and shipped on ice in special boxes, which have been designed to ensure that your food remains fresh.

Your food is delivered to your doorstep every week.

Along with your food, you can find a list of the ingredients and recipe cards that can guide you through the food preparation process. These recipes often take under 30 minutes to cook. 
While most services allow you to order around 2 to 4 meals in a box, serving approximately four people, some businesses cater to bigger families by offering family-size boxes. 
Rest assured, using a meal kit delivery service is risk-free. Read on to learn about the best meal kit delivery services in Ontario.
Read about meal delivery services of other cities in Ontario, Canada.