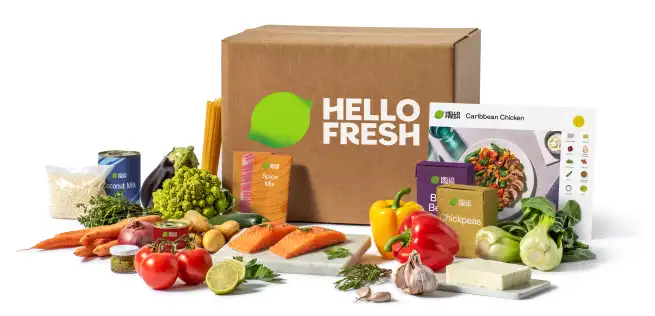 In a nutshell
HelloFresh is a huge name in the meal kit delivery industry. It provides its customers with fresh produce and a complete list of groceries for a week's worth of recipes, offering convenience and quality to one's doorstep. This is bound to make HelloFresh stand out.
After reading many HelloFresh reviews Canada, we decided to try it out to get more insight into the quality of the service. Here is our experience ordering from HelloFresh.
Pros and Cons 
Pros:
Different cuisines and customer recipes are featured on each HelloFresh menu Canada
Covers 95% of Canada
The brand is very eco-friendly and focuses on sustainability
Moderate prep time 30-40min
Easy-to-use app to order
Cons:
Wastage in their packaging
No gluten-free, vegan, paleo, or keto meal plans
Small portion sizes
Less convenient than services that provide precooked meals
How HelloFresh works?
When it comes to cooking with HelloFresh, you can expect a very hands-on process as they do not offer fully prepared or half-prepped meals. The cooking process—including prepping, mixing, and chopping ingredients—is up to you.
Although it may seem like HelloFresh doesn't offer any particular convenience, it actually substantially saves time. HelloFresh finds all the ingredients you will need for preparing your weekly meals. Not only does HelloFresh purchase them for you, but it also measures them according to the chosen recipes and delivers them all to your doorstep.
This means we don't have to go grocery shopping or spend ages figuring out exact measurements for recipes. Most recipes are rather quick and simple to prepare, so despite having to cook, the whole process does not take long.
You can pick one or more meal plans out of the eight offered, and even if your meal plans remain the same, the HelloFresh menu Canada for each meal plan changes each week, ensuring variety. The menu also features dishes from a variety of cuisines so you can incorporate new cuisines into your weekly menu and make your meals more interesting.
Who is HelloFresh for?
HelloFresh's services can benefit many different types of customers. If you have to cook every day for your family and want to save time, HelloFresh has got your back with its family-friendly options.
People who are new to cooking can also benefit from HelloFresh. Their services can work for people looking to learn new cuisines or those who want to try different cuisines but want quick and simple recipes. Subscribing to a service like this can make your meals more interesting and creative, even if you are new to a certain diet.
How much does HelloFresh cost?
| | | | | |
| --- | --- | --- | --- | --- |
| Meal plan and number of recipes per week | Price per serving | Number of servings | Total price minus shipping fee | Total price inclusive of $6.99 shipping fee |
| 2 people, 2 recipes | $10.99 |    4 | $43.96 | $59.96 |
| 2 people, 3 recipes | $8.99 |    6 | $53.94 | $60.93 |
| 2 people, 4 recipes | $8.99 |    8 | $71.92 | $78.91 |
| 4 people, 2 recipes | $8.99 |    8 | $71.92 | $78.91 |
| 4 people, 3 recipes | $7.49 |    12 | $89.88 | $96.78 |
| 4 people, 4recipes | $7.49 |    16 | $119.84 | $126.83 |
Prices at HelloFresh start at $9.25 per person if you order a meal plan for 4 people with 5 recipes. The most popular option is three recipes for 2 people per week. This costs about $12.2 without the shipping cost.
According to HelloFresh reviews Canada, the company offers a student discount and discounts for first-time subscribers.
HelloFresh meal plans
HelloFresh offers eight types of meal plans to choose from, and you can pick one or multiple plans:
Mostly Meat
Family Friendly
Smart Meals
Vegetarian
Quick & Easy
Pescatarian
High Protein
Flexitarian.
You can order a box for 2 people or 4 people, and each box can have either 3, 4, or 5 recipes a week. This means that you can receive between 6 to 20 servings a week, depending on the meal plan you choose.
How to place an order on HelloFresh?
According to HelloFresh reviews and our research, Placing an order is a simple process, and all you need to do is follow these steps:
Pick your meal plan
Create a HelloFresh account
Provide your shipping address and your payment information
Pick recipes from the weekly menu
Place your order
Your upcoming box will contain pre-picked recipes for the week that fit your preferences, but you can swap out recipes for ones you prefer from the menu. Just make sure you do this 4 days before the order is to be delivered as your credit card is charged 4 days prior to delivery. You can also look at the menu or the weeks ahead and curate a box for the future.
Meals available on the HelloFresh menu Canada
Most recipes offered can be prepared in less than 40 minutes, and each menu features 35 different recipes from a variety of cuisines. The recipes are easy to follow and clearly mention nutritional values, so you can go for low-calorie or high-protein recipes.
These are some recipes we recommend, according to our research and other HelloFresh reviews Canada:
Cajun Salmon and Shrimp with Savoury Rice and Blistered Pepper Salsa
Fig-Dressed Spinach and Goat Cheese Salad
Sesame-Peanut Pork Chow Mein
Cheddar-Crusted Chicken Thighs
Carb Smart Chipotle Beef Chili with Cheddar Cheese
Roasted Mushroom Risotto
These dishes are delicious and the ingredients are fresh. The meat and most of the vegetables are clearly sourced with care. The only flaw we found was that the bell peppers in the Chow Mein package are not as fresh as other produce.
HelloFresh shipping and delivery
After signing up and entering your zip code, you can select a delivery day based on the days available in your area. The meals are delivered via carriers including UPS, FedEx, and regional couriers. You can even opt for no-contact delivery.
You'll get a text message confirming the delivery address and instructions, and a reminder that the box is going to be delivered that day via text. Once delivered, you will be notified again, alongside a photo of the box on your doorstep.
Considering HelloFresh's commitment to eco-friendly practices, it was no surprise that the packaging was recyclable (although some plastic was present). The box was medium-sized since it only contained 6 meals, and the food was packaged in leak-proof material. Each meal had a separate brown bag containing all the ingredients and a clear label marking the recipe. The recipe cards for the week were stacked on top.
Does HelloFresh suit different dietary requirements?
HelloFresh has plenty to offer for households looking to reduce meal prep time and increase meal variety, as long as there are no major dietary restrictions needed. They offer plenty of fresh, tasty options for people who don't mind consuming dairy and follow an overall flexible diet pattern. Most people will be able to find a great meal plan that fits within their budget and saves them time in the kitchen with HelloFresh.
Dietary options on HelloFresh
Although HelloFresh does offer vegetarian, pescatarian, carb-smart, and high-protein diets, it does not offer many other dietary options. This is where they miss the mark.
Most dishes feature allergens, dairy products, and gluten, so if you have strict dietary restrictions, you might have trouble with HelloFresh. If you follow a vegan, paleo, or keto diet, the service is not very suitable for you. Since there are only 35 recipes a week, you will probably be left with very few options if you eliminate them based on the ingredient list.
It is sometimes possible to swap out carbs for vegetables when you customize a meal (for example, ordering zucchini pasta), but it still leaves only a few options. While HelloFresh offers Beyond Meat, it is only included in a few recipes per week.
The HelloFresh cooking process
Each delivery box comes with recipes that are packaged individually. These individual recipes feature a recipe card with detailed and step-by-step instructions and a picture of the final dish. All the ingredients for the recipes are measured, apart from spices that you can add to taste.
Our experience with HelloFresh recipes
Cajun Salmon and Shrimp with Savoury Rice and Blistered Pepper Salsa: this meal is one of our top picks. It is one of HelloFresh's special meals and falls in the spicy category. The flavours in this dish were bold but absolutely delicious. Although it may not be the easiest meal to cook, the effort is worth it. We followed the HelloFresh advice to use some lemon at the end, which makes the dish even better.
Fig-Dressed Spinach and Goat Cheese Salad: salads are easy to prepare but can be tricky since they need to be fresh. Luckily, HelloFresh delivered good quality and fresh ingredients, and the final dish was fresh, light, simple, and tasty.
Carb Smart Chipotle Beef Chili with Cheddar Cheese: this is one of the spicier meals on the HelloFresh menu Canada, but it is great. This dish is part of their low-carb menu, swapping beans with other vegetables. It was also a one-pot meal, reducing cleaning time. However, the recipe features quite a lot of dairy, so if you were to cook for someone who is lactose intolerant, we would avoid this dish.
What makes HelloFresh unique? 
With so many options available, it is normal to wonder what sets HelloFresh apart. We think their dedication to providing high-quality ingredients and flavourful meals is their strongest suit. They also offer variety and all meals have a large portion size, which some other companies fail to provide.
The dedication to sustainability and eco-friendly practices also make HelloFresh a company you would want to support. The company not only allows you to partake in this drive for less food waste but is also actively working on sustainable farming, greener practices, and reducing its carbon footprint.
Brand competitors
This table compares and contrasts HelloFresh with four other popular meal kit delivery services:
| | | | | | |
| --- | --- | --- | --- | --- | --- |
| Companies | Hello Fresh | Miss Fresh | Chef's Plate | Cook it   | Good Food |
| Price for 3 meals for 2 people | $82.44 | $64.95 | $59.94 | $77.00    | $82.44 |
| Subscription without commitments | Yes | Yes | Yes | Yes | Yes |
| Smallest box(recipes) | 3 | 2 | 2 | 1 | 2 |
| Number of recipes offered per week | 15 | 14 | 12 | 14 | 12 |
How to cancel my HelloFresh subscription?
Cancelling your HelloFresh subscriptions is easy and you can do so anytime, as long as changes are made at least 4 days prior to delivery. To cancel your subscription, follow these steps:
Go to your account settings
Cancel each plan individually
Complete a survey regarding the services
Receive confirmation via email
FAQs
We've answered the most common questions we came across while reading HelloFresh reviews Canada.
Is HelloFresh a good way to lose weight?
HelloFresh does not offer a meal plan that targets weight loss. However, it does offer plans that have low carbs or high proteins. The caloric value of each serving is also available on the recipe card, so you can simply pick meals with a lower calorie count.
How many weeks can you skip HelloFresh?
HelloFresh allows you to skip up to 6 weeks at a time. You can simply log in to your account and skip the upcoming week. Just do so before the 4-day deadline.
How hard is it to cancel HelloFresh?
As discussed before, cancelling your subscription is a simple process. You can also skip a week or two or opt for a biweekly plan if you aren't sure about cancelling it just yet. Once cancelled, you will be notified via email.
Do you put HelloFresh in the fridge or freezer?
Most of the ingredients you receive—like fresh vegetables and cheeses—can be stored in the fridge. However, meats need to be stored in the freezer. Fruit can be stored at room temperature.
Is there a HelloFresh Calgary location? 
While there are no specific HelloFresh Calgary locations, HelloFresh delivers meals across Canada, including in Alberta, where Calgary is located. If you live in Calgary, you can sign up for HelloFresh and get your meals delivered to your doorstep.
Our final verdict: is HelloFresh worth it?
HelloFresh is a popular brand that caters to a variety of cooks and is a great starting point for new cooks. If you don't like going through the trouble of finding high-quality products for your weekly meals, HelloFresh is a great option for you.
Although it is not the cheapest option on the market, it does deliver the health, convenience, and sustainability it promises. However, it does not provide a lot of dietary options. If you have a more relaxed diet and the budget for it, and you're looking for a good meal kit service, HelloFresh is definitely worth a try.
Awesome
Originally from Berlin Germany, hellofresh has established itself as worldwide meal kit delivery service which serves almost all over Canada.
The Good
Great low carbs menu
All Canada
High Food quality
The Bad
Expensive for families
Priced high
Not for meat lovers