Meal Kit deliveries have become popular in many parts of the USA and Canada, especially since the outbreak of Covid-19, when getting out of the house seemed like an unnecessary risk. Like many other cities, Guelph was quick to hop on the bandwagon. Read ahead to find a brief review of what we believe are the finest meal deliveries in Guelph, Ontario.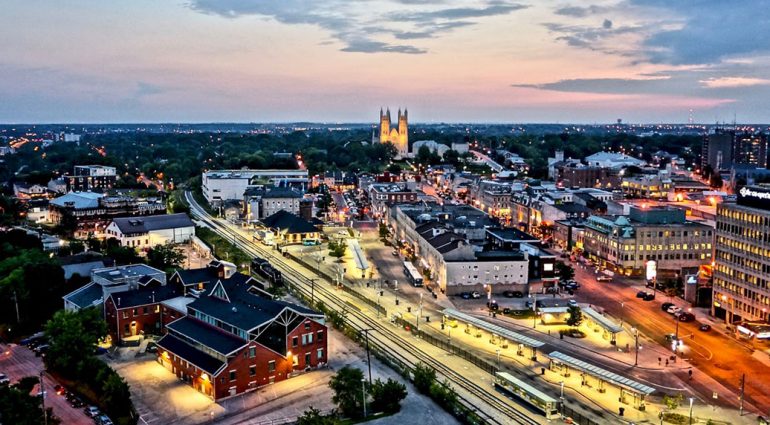 Guelph, the royal city of Canada:
Guelph has one of the most distinct personalities as a city in Canada, resulting in earning the title of "The Royal City." Not only is the economy in Guelph tough to beat, but so are the outdoor and indoor experiences found within the city. 
Guelph is incredibly dominant in art and culture, from museums to art galleries, not to add history. Not only can you find the historic locomotive and the birthplace of the famous John McCrae in this city, but you can also visit the Basilica of Our Lady Immaculate, which is an excellent reminder of Canadian history. The city is known for its breweries and food options. 
You can find a variety of cuisines in most parts of Guelph, but downtown Guelph is dominated explicitly by a great range of restaurants offering diverse menus. There's no shortage of farmer's markets in Guelph, which adds to the freshness of the food found in meals since ingredients can be easily sourced from local vendors. 
We have taken the liberty of shortlisting the best services amongst a sea of meal delivery companies serving in Guelph, Ontario. These services have been briefly reviewed, especially for affordability, diversity in their menu and meal plans, and other forms of convenience that they may provide in their services.
Meal delivery companies in Guelph, Ontario
Revive Superfoods
This service is excellent for those looking to lead a healthy lifestyle while still treating their taste buds. Revive Superfoods does it all, whether it's a breakfast smoothie, a dinner, a delectable soup, a sweet treat, or an on-the-go snack. 
The firm is incredibly eco-friendly since it adapts to a zero-waste philosophy and commits to sustainability in its services. Their dishes comprise primarily fruits, vegetables, and other plant-based natural components, all of which add nutritional value. 
Not just this, the smoothies it supplies are in the form of raw ingredients, which the consumers may blend to give them the freedom to choose a preferred beverage for blending. Revive Superfoods' vast meal categories include anything from organic fruits, vegetables, and oat-based goods to dairy-free, vanilla, and salted caramel ice cream.
Average cost: 7.99 per item
Meal plans: you can choose between three boxes, each allowing either 9, 12, or 24 items to be added. 
Sample meals we liked:
Pink Dragon

Guajillo Tortilla

Chipotle & Black Bean
Our likes
Meal selections in many categories

Pocket-friendly meals

Sustainability and environmental friendliness
Our dislikes
The menu does not accommodate special dietary needs.

Limited choices between items
GoodFood:
This efficient yet affordable service has made itself a leading name in the meal delivery industry. Continuing operations since 2015 and delivering in most parts of Canada, GoodFood claims to be the # 1 meal kit subscription in Canada. 
GoodFood not only provides freshly prepared meals but also offers meal kit deliveries, wherein it sends the consumers recipes and the pre-portioned ingredients required to curate them, thus cutting down the prep time and making cooking easier. The meal plans are extensive and easily customizable, so there is something in the store for almost everyone.
Average cost: between $11 and $15
Meal plans: the Classic (Vegetarian upon preference) and Easy Prep (Low-Carb upon preference) buckets come with either 2 recipes of 4 servings or 3/4 recipes of 2/4 servings.
The Family Bucket Comes comes with 4 servings with either 2, 3, or 4 recipes.
The buckets are easily customizable.
Samples we liked:
Spiced Pork Chops with Lacinato Kale

BBQ Beef Burgers with Roasted Peppers & Onions

Seared Chicken Thighs in Lemongrass Glaze
Our likes
User-friendly interface

Large selection of meals

Discounts readily available 

Preference-based meals
Our dislikes
Does not cater to many specific diets such as keto, paleo, etc.

Not suitable for large families
EasyMealz:
EasyMeals delivers freshly prepared meals straight to your home, saving you the time and effort of having to make your food. Their meals are prepared in convenient containers that you can heat in the microwave or the oven. The meats they use are halal, which caters to their Muslim customers, and they also have a low-carb menu for those looking to lose weight. 
They have specific meal plans for individuals and families and allow consumers the freedom to select their meat preferences. They also have an 8-week rotating menu to ensure that your taste buds do not grow bored of the same old taste. 
Average cost: $9.99 per serving
Meal plans: a standard or low-carb weekly meal plan of 5 or 10 meals. Family meal plans of either 3 or 5 meals, each serving 3 or 5 people, depending on the size of the family
Samples we liked:
Penne Beef Bolognese

Not With Butter Chicken – with Carrots and Peas and Long Grain Rice

Mama's BBQ Meatloaf – with Sweet Potato and Mixed Vegetables
Our likes
Long shelf life of meals. Can be frozen for up to 4-6 weeks

8-week rotating menu

Suitable for big or small families

Customizable meal plans
Our dislikes
Shipping charges apply for orders below $160 even though most of their meal plans cost less than that

Meals do not satisfy specific diets such as keto, vegan, or gluten-free
The Conscious Kitchen:
The Conscious Kitchen service prioritizes the quality of their meal over anything else. Their menu items, while limited, are high in nutritional value and full of taste. They provide meal kits and quality groceries to their customers. 
They are committed to sustainability and avoiding wastage, so they provide meals in containers that may be collected upon the subsequent delivery, sanitized, and reused for orders. They provide their consumers with breakfast, lunch, and dinner options, which are curated and seasoned using only natural, plant-based, and premium quality ingredients. 
Their meal prices may range from between $8 to $16, and they also provide gluten and nut-free options in their recipes. 
Average cost: $12 per meal
Meal plans: the conscious kitchen allows consumers to customize their orders easily. The meal plans include choosing between 3 or 5 weekly meals for all categories, a single portion meal, a couple of sized meal, or a family-sized meal. In addition, it follows the same steps for an individual portion of a 3 or 5-meal salad plan.
Samples we liked:
Gluten-free brownie

Creamy Mushroom & Asparagus Stroganoff

Cuban Picadillo
Our likes
Premium quality, healthy and nutritious meals

Offers allergen-free options such as gluten and nut-free meals

Allows customization of meals as well as pre-set meals for those who do not want to manage their weekly meals

Offers free shipping on orders above $40

Committed to sustainability
Our dislikes
It can be relatively expensive

Very limited menu

Does not include kid-friendly meal options
HelloFresh:
HelloFresh touts itself as the most popular meal kit service on the planet. The meal delivery service is accessible, offering a broad range of delicious, convenient, and healthy foods that are likely to be devoured by everyone, even fussy eaters. It is also one of the most affordable meal kit companies, with plans starting at just $7.50 a serving.
Average cost: $9.99
Meal plans: the meal plans allow you to choose a single or mix of preferences from Meat and Veggies, Veggies, Family Friendly, Fit and Wholesome, Quick and Easy, and Pescatarian. Consumers can choose their meals for either 2 or 4 people, and for each, they can get 2, 3, 4, 5, or 6 weekly recipes. 
Samples we liked:
Golden Chicken Schnitzel with Crispy potatoes OR broccoli

Beef Tenderloin & Balsamic Steak Sauce with Chive Mashed Potatoes & Roasted Broccoli

Creamy Shrimp & Bacon Spaghetti with Smoky Charred Corn & Chives

Grilled Chicken & Steak Fajitas with Charred Veggies, Cilantro Pineapple Pico & Smoky Red Pepper Crema
Our likes
User-friendly interface

A wide array of meals and meal plans is available to cater to a larger audience, including those with vegan or premium meal preferences

Pocket-friendly

Convenient delivery services
Our dislikes
It does not provide free shipping

The menu does not accommodate diets such as keto, paleo, and gluten-free
Yumba
Yumba has partnered with some of the top restaurants in Toronto to provide you with delicious and healthy meals and bring some of the signature dishes right to your doorstep. You can choose your preferred dish from their menu, which offers a wide variety, and your meals are delivered accordingly.
Yumba offers maximum convenience to its clients. You can avail different deals and meal plans and enjoy delicious food with no effort. Moreover, you can pause or cancel your subscription before the deadline, anytime you wish. They offer individual servings for adults, and their meals usually include 350 to 650 calories. 
In addition, to make things as easy and simple as possible for their clients, Yumba delivers fully prepared meals that do not require any extra cooking or anything, just reheat in the microwave and dig in.
Starting price: $7.37
Minimum order: minimum 4 meals
Sample meals we liked: 
Chicken Alfredo

Buffalo Ranch Chicken

Valentina Shrimp Tacos
Our likes:
Meals are delivered in reusable thermal bags with ice packs to keep the food fresh.

Gift card option

Fully prepared meals

No chemicals or artificial preservatives
Isabelle Huot
Isabelle Huot is famous for its nutritional diet plans and meals for all those looking for meal kits. They are the ones for you if you are looking for a healthy and balanced lifestyle. Partnered with many people and businesses, Isabelle Huot brings you very high-quality meals.
Orders can be placed for now or for later both, and healthy, delicious meals are delivered to your doorstep. Yes, Isabelle has made it possible for healthy food to be delicious. No compromise on taste and healthy calories make Isabelle Huot an excellent option for meal kits.
Punctuality is another one of their qualities. Your order is never delayed as they make punctuality the main priority as well. Freshly prepared food is delivered to you right on time. Their changing menus bring you unique tastes every time.
Starting price: $17.95
Minimum order: no minimum order
Sample meals we liked: 
Spaghetti with Tomatoes and Lobster

Grilled Cheese Pear and Caramelized Onions

Isabelle's Caesar Salad
Our likes:
Nutritional healthy diet

Extra services from partnerships
Meal kit delivery in Guelph: our final thoughts
Meal and meal kit delivery services in Guelph provide individuals with the option to live a healthy lifestyle with minimal effort.
These services are a great way to cut down on your cooking time, and they're beneficial for folks who are learning to cook or are overworked in the workplace. They may also be a cost-effective solution to save money on daily take-out meals, cooking, and grocery shopping time, because, as the saying goes, time is money.
Read about meal delivery services in other cities in Ontario, Canada.