There are many meal delivery services currently functioning all over Canada. Peterborough also has many options when it comes to meal kits and meal delivery services, including but not limited to paleo, plant-based, and vegetarian meal plans. If you reside in Peterborough, Ontario, and are looking for a good overview of some of the meal delivery services functioning here, look further.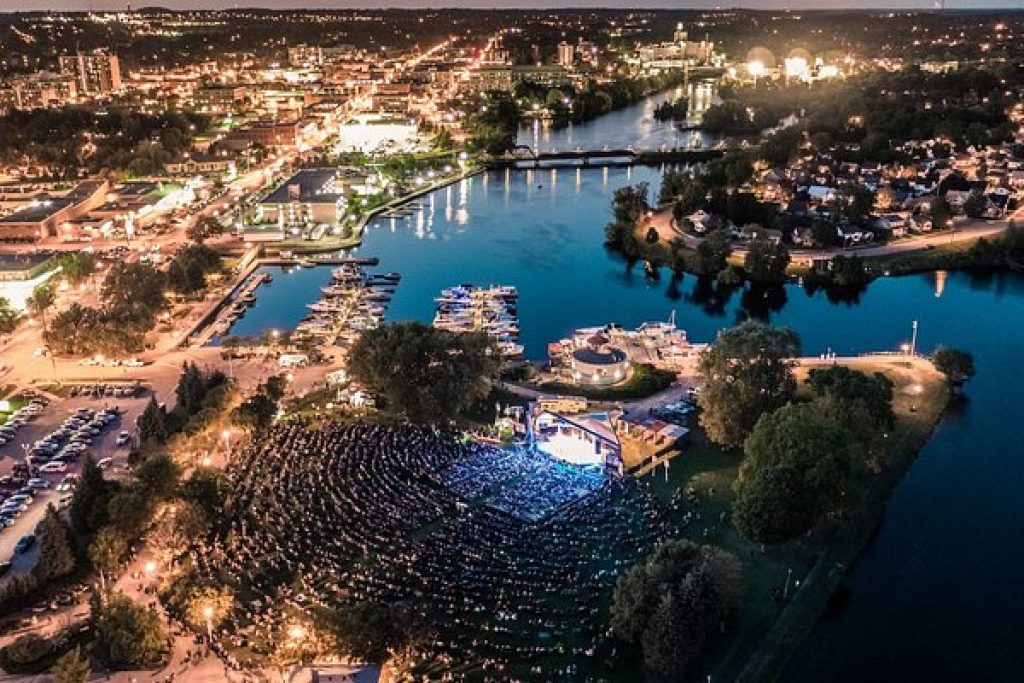 What does Peterborough have to offer?
Peterborough sits by the Otonabee River in Ontario, a city full of culture and history. It was the first home to Canadian General Electric and got the title 'The Electric City.' If you enjoy heritage sites and museums, this is a city you must visit. You can visit the beautiful marina and have a lovely evening by the river.
Peterborough is now home to around 85,000 people. While the population is not too large, there are still many food options around the city. The city has a huge farm-to-table culture, so you know the food and the produce will be fresh and top-notch. They have a variety of food and wine options, including but not limited to restaurants, pubs, farmer's markets, distilleries, wineries, etc. If you are a food-lover, you can even book tours to get an authentic taste of Peterborough and all it offers.
Peterborough has many meal delivery services now, and local services like Kitchen Farmacy are paying homage to the farm-to-table culture of the city. Each service has different price ranges, types of meals, dietary options, and meal plans. We have picked leading meal delivery services in Peterborough to give you an idea of what might work best for you.
Evolv Your Body
Evolv Your Body is a vegan and paleo diet-focused meal delivery service. The service is based in Peterborough and provides delicious, healthy, and handmade ready meals to their customers at their doorsteps. All the meals use seasonal produce, which is why the menu changes based on the market availability.
The company is run by a chef who is also a personal trainer, so you won't have to worry about the taste or the calories. If you are someone who is looking to get good vegan or paleo meals but don't have the time to cook for yourself, this is the delivery service for you. 
Cost/Minimum Order: Meal packs start at $57.95.
Average Weekly Meals: 5-10 meals a week. 
Sample meals we liked:
Evolv Delux Beef Burger with Sweet Potato Fries.

Ethiopian Red Lentil Stew.

Paleo Breakfast. Coconut Blueberry Waffle with Bacon Coconut Cream Quiche.
Availability: They deliver to Peterborough, Millbrook, Lakefield, Ennismore, Omemee and Bridgenorth. Free shipping in Peterborough. $10 shipping fee for other areas.
Likes
Menu changes regularly.

The food was fresh. 

Free shipping in Peterborough.
Kitchen Farmacy
Kitchen Farmacy is a farm-to-table meal delivery service that uses local produce and features seasonal produce on its menu. They only use product grown by the chef or that is available within a 50 km radius so that they can support local farmers. Since the founder is a chef, you know the food will be restaurant quality. 
Suppose you do not have time to cook for your family but want home-cooked meals, or you are a food lover looking for restaurant-quality food at home, then you should look into Kitchen Farmacy. You can either go through their extensive seasonal menu or pick a meal plan and receive entrees weekly based on the chef's choice. Either way, you know you are in for a good meal. 
Cost/Minimum Order: Meals start at $14.99. 
$41.36 /week for Lighter, Vegetarian, and Plant-based meal plan. $44.18/week for the Meat and Veg meal plan. 
Average weekly meals: 1-4 entrees per delivery in Plant-Based Meal Plan. As many meals as you like in other plans. 
Sample meals we liked:
Beef Ragu Ravioli (Serves 2).

Chicken Parmesan with Garlic & Parsley Pesto (Serves 2).

Vegan Bean Bourguignon (serves 2).
Availability: All over Canada.
Likes
Supports the local community. 

Good for large families. 

Fun to receive a chef-curated menu if you go for the Chef's Choice.
Dislikes
Not enough plant-based meals. 

More useful for larger groups rather than a single consumer.
Goodfood
GoodFood is one of the biggest names when it comes to meal kit delivery services in Canada. If you want to cook more and learn new recipes, GoodFoods will provide you with all the ingredients and instructions you need to create the dishes you pick. The service is good for single servings and can be used to cook for families too. Either way, you will be more involved in the process and get a freshly prepared, delicious, and nutritious meal. 
Cost/Minimum Order: $12.74/serving with three recipes and two servings. The weekly total is $76.44.
Average weekly meals: 2 to 4 recipes a week.
Availability: Delivery in Peterborough and key areas in Ontario, Manitoba, British Columbia, Maritimes, and Alberta.
Sample meals we liked:
Smoky Garlic Shrimp.

Seared Chicken Breasts with Honey-Garlic Sauce.

Honeyed Halloumi, Burst Tomatoes & Zucchini.
Likes
A good tool to learn cooking and receive ingredients you cannot find. 

The menu is changed every week.

The menu features many cuisines.
Dislikes
The website is not very user-friendly. 

Not suitable for large families. 

Not a lot of options for people with dietary restrictions.
Read the full GoodFood review.
Nourish You
Nourish You is another Peterborough-based meal delivery service. Their food is simple but healthy and hearty. And most importantly, it tastes good. They are a family-run business and focus mostly on family meals. They even have bundles for new parents to ensure that despite not having enough time, they are still getting nutritious food that gives them the energy they need.
Cost/Minimum Order: Meals start at $8.00. Bundles start at $50.00 with soup, salad, entrée, and energy balls. 
Sample meals we liked:
Coconut Red Lentil Soup with Lemongrass.

Lemon Herbed Chicken with Potato.

Mixed Berry Chia Parfaits – Gluten-Free/Vegan.
Availability: Delivery in Peterborough.
Likes
Support small local businesses. 

Bundles focused on new parents. 

Menu changes every week.
Dislikes
The menu is very limited.

Few dietary options.
Heart to Home Meals
Heart to Home Meals is a slightly different meal delivery service due to its target clientele. This meal-delivery service is dedicated to providing meals to senior citizens' homes, especially those living alone. They aim to provide nutritious and delicious food to their doorsteps with the help of friendly and familiar delivery personnel. Heart to Homes Meals has a dietitian helping them out and considering their audience; they feature many dietary options on the menu. 
Not only can people order this for themselves, but others can also order the menu and the meals for their loved ones. The menu is extensive with a large variety of entrees, breakfast, and even desserts, with many dietary options. The meals are frozen and come with instructions with details about cooking time using different appliances. Overall, they try to make the whole process as simple as possible. 
Cost/Minimum Order: Meals start at $4.50.
Sample meals we liked:
Homestyle Meatloaf.

Fish and Chips.

Salmon with Roasted Peppers and Tomato.
Availability: Delivery across Ontario, Alberta, Nova Scotia, and Saskatchewan.
Likes
Extensive menu with many dietary options. 

Complete instructions regarding cooking time. 

Good customer service.
Dislikes
The portion size for meals is too small. 
Power Kitchen 
Meal kits are now an essential part of many people's lives. Power Kitchen offers a wide variety of meals and comes with delivery to your doorstep service. It also includes custom meals where you build your own meal plan, which is customized to meet your requirements and taste. 
Power Kitchen also offers meals for those who wish to gain or lose weight. You can choose from Keto, Clean Shredding, Lean Muscle, Paleo, Vegan, Clean Bulking, and their Power Box. This helps you meet your fitness goals while enjoying delicious and healthy meals.
Moreover, they also offer a bulk menu where you can order larger quantities of food to share with your family or friends. They deliver freshly prepared meals to your doorstep as per your requirement, or you can also pick up your food if you wish. 
Starting price: $4.25
Minimum order: Minimum of 3 meals 
Sample meals we liked:
Moroccan Beef Burger

Beef Teriyaki

Jerk Chicken Thigh
Likes:
Insulated bags are used to store the food while delivering 

Biodegradable packaging.

Halal food available 

You don't have to be at home to receive your order

Gift card option
Dislikes:
Minimum order required to subscribe
Meal Fix Canada
Meal kits are very common these days, and with reason. Given the convenience Meal Fix Canada offers, there is no doubt that it is an excellent option to consider. They provide a wide variety for you to choose from and deliver your food to your doorstep, providing maximum convenience. 
Meal Fix Canada offers several types of meal plans for different diets. You can decide how many cards and protein you want to consume, and Meal Fix Canada will prepare your food accordingly. In addition, the meat they use is HMA certified, and every meal is freshly prepared.
Moreover, you can order meals for the whole week or a few days as per your requirement, and it can be more than one delicious meal per day. All you have to do to avail this offer is sign up. 
Starting price: $15
Minimum order: No minimum order
Sample meals we liked: 
BBQ Steak

Chicken Caesar Salad
Likes:
Delivery packing is insulted

Plans for singles, couples, and families

Biodegradable packaging

Gift card option
Meal kits delivery in Peterborough, Ontario – Final verdict
Food is an integral part of our lives, but for various reasons, it can be difficult for people to create and curate meals daily. Food is meant to be enjoyed and bring people together and be a source of nutrition and happiness, and all these meal delivery services aim to do that.
Peterborough has many such services, all with different visions and stories. If you are here and looking for a meal delivery service that matches your needs and taste, you can explore all these options and get an idea of which one suits you the best. 
Read about other cities meal delivery services in Ontario, Canada.