The ketogenic—keto—diet is a high-fat, low-carb diet first used in the 1920s to treat epilepsy and has been considered a healthy choice since. We've examined Google Trends data on diets to learn why keto has been in decline recently, what diet is taking over, and which provinces are most up-to-date on the latest healthy diets. Continue reading to find out more.  
Keto is more popular in remote territories in Canada
The keto diet first began gaining popularity amongst the general public—according to our research on Google Trends—in January 2018. It first took off in the territories, most searched for in the Northwest Territories, Yukon, and Nunavut, and least searched for in the south, in provinces such as Nova Scotia, New Brunswick, Ontario, and British Columbia.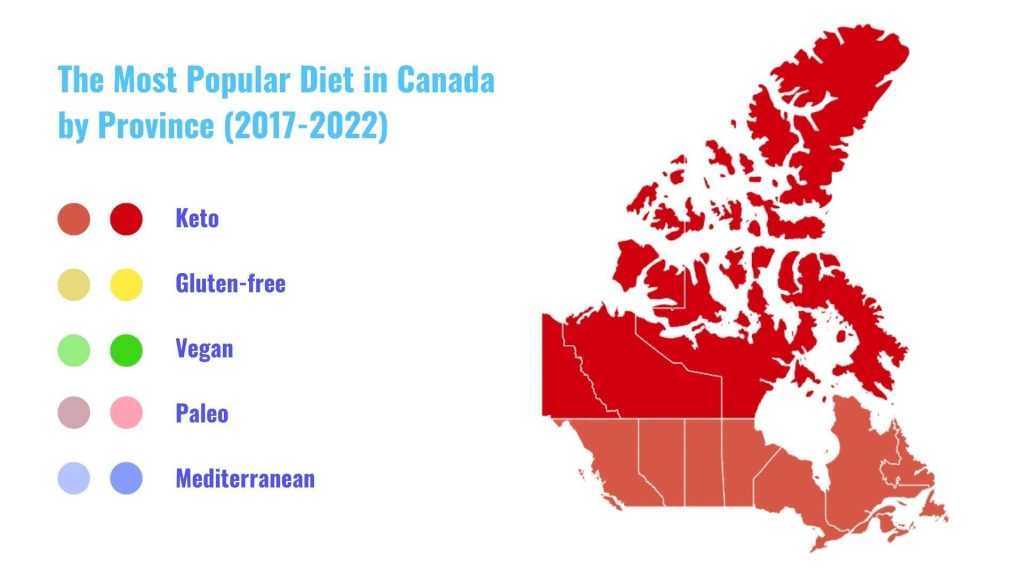 Data Source: Google Trends, (https://www.google.com/trends) 
By January 2019, the keto diet had reached an all-time high, surpassing other popular diets—the Mediterranean, gluten-free, paleo, and vegan diets—by at least 91% in search volume. The unpopularity of the diet along the Canadian border with the U.S. remained intact even during its peak popularity in 2019 when its lowest popularity remained in British Columbia. 
The fall of keto
Following its 2019 spike in popularity, keto has been in general decline, though it's still extremely popular.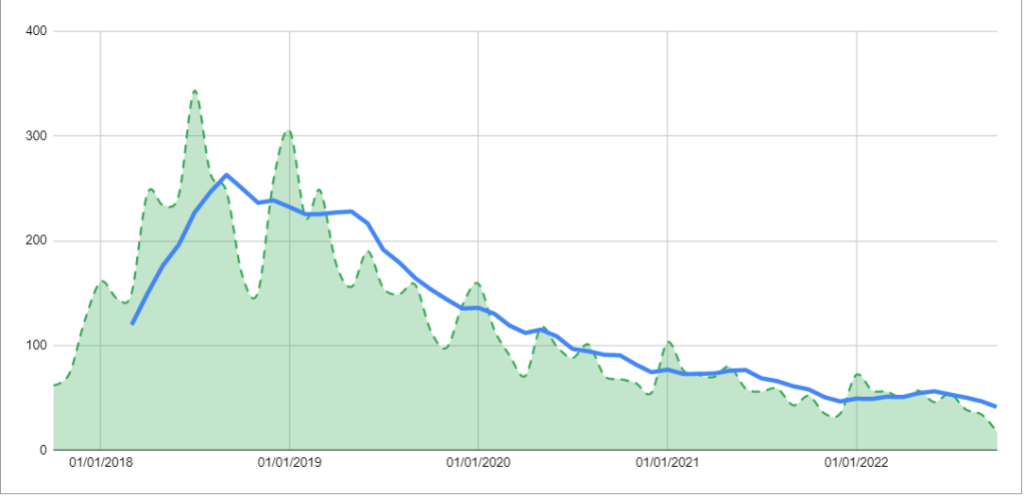 Data Source: Google Trends, (https://www.google.com/trends)
The diet has consistently seen spikes in popularity every January, telling of a well-intentioned population looking to begin the new year healthily. In January 2020 keto was half as popular as it had been in 2019, in 2021 it was 31% as popular, and in 2022, only 16% as popular, and had dipped in popularity during the rest of the year. 
In 2022, the keto diet declined by 25% overall in Canada. 
Alternatives to keto in Canada
Recently, there has been a rising interest in the Mediterranean diet, perhaps because health experts have named it the best diet for 5 years in a row. The Mediterranean diet is currently most popular along the border—in Nova Scotia and British Columbia—where it ranks 24% behind keto, telling of these provinces' adherence to expert advice. 
The Mediterranean diet is least popular in the territories, where keto still serves 100% of searches. This might be explained by taking into account the climate in the territories, which makes meats more accessible than vegetables. That said, the mere interest in search is not enough to beat even the declining popularity of keto. 
A more intentional search by the public is by diet-specific recipes, which shows an action-based intention to prepare a meal, rather than seek information. Considering intention-focused search terms for popular diets, we've found that the Mediterranean diet has relatively low follow-through and that the vegan diet is more popular.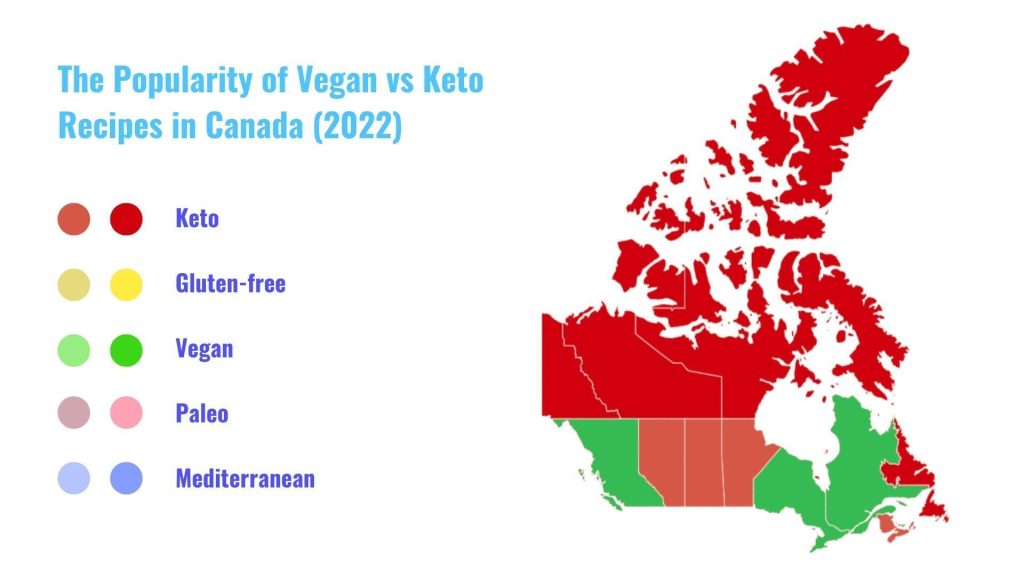 Data Source: Google Trends, (https://www.google.com/trends) 
Healthy provinces don't follow the keto diet
Keto can be a fast-paced track to weight loss, can be helpful with epilepsy, and may even help prevent cancer by inhibiting tumour growth. However, it comes with disadvantages.
The diet can take 2-3 weeks to work for weight loss. Keto is also extremely restrictive, making it difficult to follow for a more extended period. Even if you follow the diet continuously, keep in mind that the lower amount of carbs can harm your overall health, so it might be best to follow the diet only short term. 
This, perhaps, explains why keto only ranked #37 out of 40 for best diets, according to experts. And it is not surprising that the diet is most popular in spaces—like Nunavut and Yukon—that also rank as the least healthy provinces and territories in Canada.
Veganism is taking over Canada
The vegan diet is followed by about 850,000 Canadians, according to Statistica, and is currently the most-searched-for diet (in terms of recipes) in eastern and western Canada, with about 34% of Canadians trying out meat alternatives.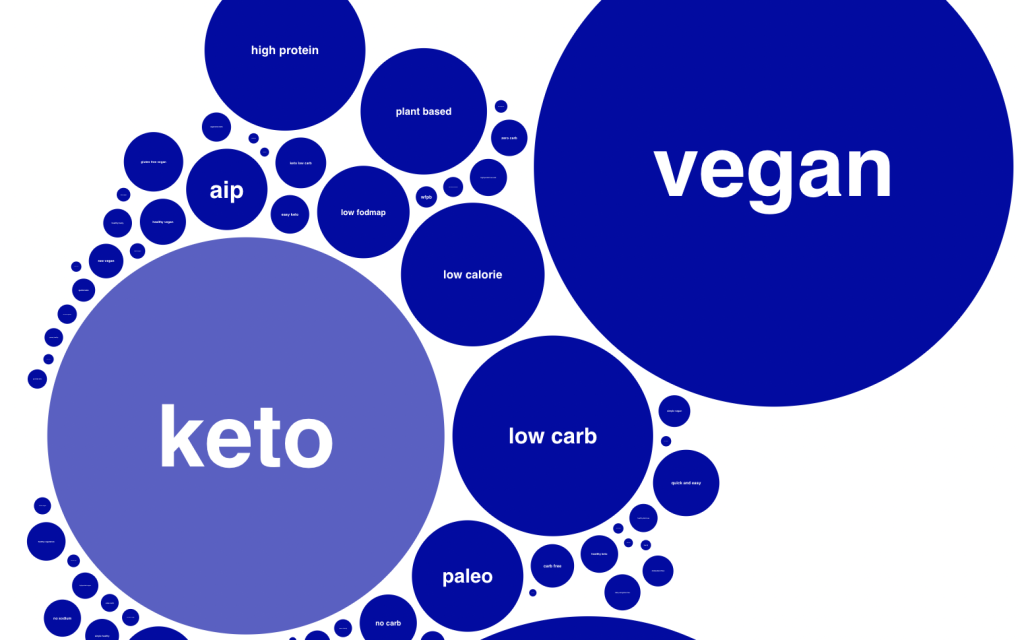 Data Source: Google Trends, (https://www.google.com/trends) 
In Prince Edward Island, Quebec, British Columbia, and Ontario, the vegan diet has surpassed keto's popularity by an average of 10%. This can be explained by the recent ranking published by CBC News, which named British Columbia and Ontario the healthiest provinces in Canada, with British Columbia ranking as the 3rd healthiest place in the world.
What's next?
While the ketogenic diet remains the most popular diet overall in Canada, its disadvantages explain why it is not recommended by experts.
The unpopularity of keto closer to the American border, combined with the popularity of the Mediterranean and vegan diets in those areas, is telling of the population's health awareness and health resources. If you want to promote a healthier Canada for everyone, it might be a good idea to allocate resources to the less-populated provinces in the country. 
As keto is losing popularity both in Canada and in other countries such as the United States, other diets are taking over. Hopefully, these diets will better coincide with the diets that have been recommended by health experts.
One of these diets, which—as we've mentioned—is currently on the rise, is the vegan diet. While veganism isn't ranked among the healthiest diets, mainly because the diet's health depends largely on the individual, we can rest assured that its rise has a positive value that keto was lacking: its impact on the health of our planet. 
Research methodology
This article presents information and statistics from previously published research on the subject in combination with new research using Google Trends to compare search trends for the terms "paleo diet," "keto diet," "Mediterranean diet," "vegan diet," and "gluten-free diet" in Canada in 2017-2022. We've also researched the terms "paleo recipes," "keto recipes," "Mediterranean diet recipes," "vegan recipes," and gluten-free recipes" for the same timeframe. 
References